Sweet Hour of Prayer
".   The video I've found with the music is so sweet and peaceful, so I've included that for you to enjoy.
*Walford, William W., a blind preacher of England, is the author of the hymn beginning "Sweet hour of prayer." This hymn first appeared in print in the New York Observer September 13, 1845. The contributor who furnished the hymn says:
During my residence at Coleshill, Warwickshire, England, I became acquainted with W. W. Walford, the blind preacher, a man of obscure birth and connections and no education, but of strong mind and most 442 retentive memory. In the pulpit he never failed to select a lesson well adapted to his subject, giving chapter and verse with unerring precision, and scarcely ever misplacing a word in his repetition of the Psalms, every part of the New Testament, the prophecies, and some of the histories, so as to have the reputation of knowing the whole Bible by heart."
 (*Source: http://www.ccel.org/ccel/nutter/hymnwriters.WalfordW.html)
Sweet Hour of Prayer (William W. Wallford, 1845)
Words to "Sweet Hour of Prayer"
Sweet hour of prayer! sweet hour of prayer! That calls me from a world of care, And bids me at my Father's throne Make all my wants and wishes known. In seasons of distress and grief, My soul has often found relief, And oft escaped the tempter's snare, By thy return, sweet hour of prayer! Sweet hour of prayer! sweet hour of prayer! The joys I feel, the bliss I share, Of those whose anxious spirits burn With strong desires for thy return! With such I hasten to the place Where God my Savior shows His face, And gladly take my station there, And wait for thee, sweet hour of prayer! Sweet hour of prayer! sweet hour of prayer! Thy wings shall my petition bear To Him whose truth and faithfulness Engage the waiting soul to bless. And since He bids me seek His face, Believe His Word and trust His grace, I'll cast on Him my every care, And wait for thee, sweet hour of prayer! Sweet hour of prayer! sweet hour of prayer! May I thy consolation share, Till, from Mount Pisgah's lofty height, I view my home and take my flight. This robe of flesh I'll drop, and rise To seize the everlasting prize, And shout, while passing through the air, "Farewell, farewell, sweet hour of prayer!"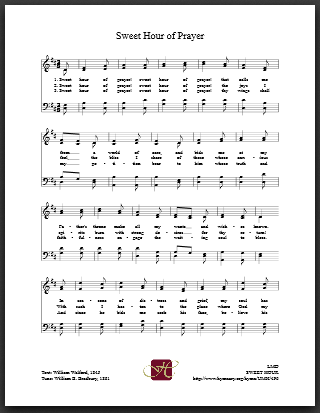 Day 25

An hour is never sweet when it's rushed or there's lots of noise…neither is your time for prayer. Get up a little earlier if needed, so that's it's quiet and more relaxed.  Enjoy your time with the Lord.  It should be a sweet, quiet time to pray, alone with the Lord. It doesn't have to be a whole hour…start off with 10 minutes of quiet time to create a daily habit.  As time goes and your faith grows, you'll crave more time of that "

sweet hour of prayer

." Remember, we can pray all through the day as well…which is great for busy moms and for those ladies who work all day outside the home.

Do you have any favorite hymns or poems on prayer?

God bless your day ahead,

~ Rhonda White

]]>

<![CDATA[Today, I wanted you to ponder the words of "