Day 2- Pep Talk Time: Dig for the JOY from the Word of God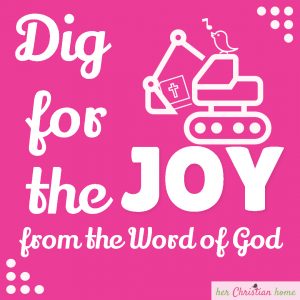 Good morning to YOU!  
*We're continuing our morning pep talks for our 21 Day Bible Reading Challenge….
Think back to the last fun gift you received… perhaps it was something simple like a gift card, a favorite coffee treat or even a pretty pen. Remember how happy you felt receiving it?
The happiness most people experience is sparked from temporary circumstances.  For example, if someone gives me a gift, I will often find delight in that gift and experience a temporary exhilaration.   (Receiving a plant, book or a gift card to go out to eat gives me this feeling.  **happy, smiley thoughts for hours**)
A week or two later…
I may still appreciate that gift, but trials and burdens may weigh me down.  I may feel that the world is against me when nothing seems to go my way.  A negative attitude might interfere with my feeling happy and content.  Sad news may cause my heart to grieve.
No happy moments or gifts from the past are going to carry me peacefully and joyfully through the drudgery circumstances of life.
Without the hope and JOY that only God can give me, negative situations will rob my happiness.
I cannot muster up continuous joy on my own – especially during trying times.  Even chocolate will seem powerless in my darkest hours.  (Oh no! Don't get me thinking about chocolate this early in the morning. Lol)
How do we maintain a JOYFUL heart every day?
Dig for JOY from the Word of God!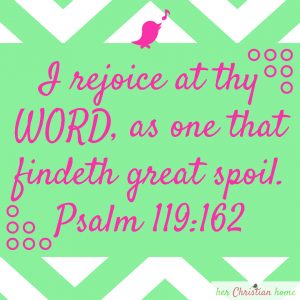 Psalm 119:162 (KJV) I rejoice at thy word, as one that findeth great spoil.
>> There's such wonderful buried treasures in the Word of God waiting to be found!
We discover JOY and happiness that only God can give to us. Each day we have an opportunity to gain more peace and joy though the encouragement of God's Word.
>> Are you going to miss out today?  Or, are you going to choose to dig in and get the treasures?
"You Will Add to Your JOY When You Count Your Blessings." ~ Paul Chappell
> Complete Today's Challenge:

Please spend at least 10 minutes today reading God's Word.  If you have time, write at least ONE Bible verse in your journal.  (*There's 10 Bible Verses below — you can choose one of those to write in your journal, if you wish.)
__________________________________________________________________
10 Bible Verses to Read about Joy: 
1 Chronicles 16:10 (KJV) Glory ye in his holy name: let the heart of them rejoice that seek the LORD.
Psalm 13:5 (KJV) But I have trusted in thy mercy; my heart shall rejoice in thy salvation.
Psalm 16:11 (KJV) Thou wilt shew me the path of life: in thy presence is fulness of joy; at thy right hand there are pleasures for evermore.
Psalm 32:11 (KJV) Be glad in the LORD, and rejoice, ye righteous: and shout for joy, all ye that are upright in heart.
Psalm 51:12 (KJV) Restore unto me the joy of thy salvation; and uphold me with thy free spirit.
Psalm 68:3 (KJV) But let the righteous be glad; let them rejoice before God: yea, let them exceedingly rejoice.
Psalm 105:3 (KJV) Glory ye in his holy name: let the heart of them rejoice that seek the LORD.
Psalm 118:24 (KJV) This is the day which the LORD hath made; we will rejoice and be glad in it.
Proverbs 15:23 (KJV) A man hath joy by the answer of his mouth: and a word spoken in due season, how good is it!
Habakkuk 3:18 (KJV) Yet I will rejoice in the LORD, I will joy in the God of my salvation.