Day 7 – How to Find Comfort During Hurtful Times
Good morning!
TODAY you have completed your FIRST week for our challenge!!!  I'm sooooooo proud of you!
>> SIDE NOTE: Tomorrow will be the start of WEEK 2 so plan to add 5 MORE minutes to your morning Bible reading routine if your goal is to increase more Bible reading "time" for this year.
*Join us in our 21 Day Bible Reading Challenge at any time!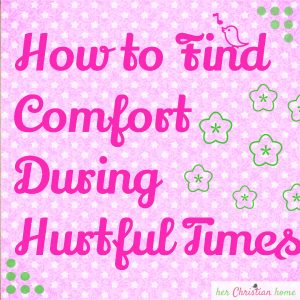 We all have hurts in life. It's an unavoidable part of life because we live in a sinful world. Do you still have a lingering hurt?
There's an old saying that 'time heals all wounds'.  The truth of the matter is that time cannot heal the wounds.  Time can only allow the pain to lessen.  Time might also allow the matter to improve or circumstances to change, but sadly, this isn't always the case.
It can be very hard to forgive someone who hurt us. (*We talked about  "letting go" and forgiveness on Day 4). Sometimes the hurt stems from a great "loss" in our life, such as losing a loved one. The truth is, it's still up to us to take the initiative to heal whatever may be the case.
If we cling to the hurt and let it harbor in our heart, we allow ourselves to be robbed of JOY. The offender moves on in life, and we are stuck in time carrying the weight and the pain of the hurt.
God often allows us to go through painful circumstances, even though we may not truly understand the reason why here on earth. The important part is not to miss what God wants to teach us during the hurtful time.
One of the best ways to OVERCOME hurt is to get super busy helping others.  (It takes the focus off ourselves and keeps our mind busy elsewhere.) Initiate a positive attitude with your hurt and draw closer to God by READING His Word daily.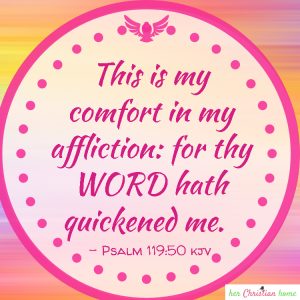 This is my comfort in my affliction: for thy word hath quickened me.  – Psalm 119:50 kjv
*SIDE NOTE: I have yet to hear one person complain that they felt negative after reading the Word of God.  There's something so powerful about reading IT that brings us peace and a good measure of reassurance that God is in control.
Three Simple Things that Hurt Teaches Us:
To draw closer to God during our dark hours of pain.
To become stronger in faith after we find healing.
To sympathize with others who are hurting.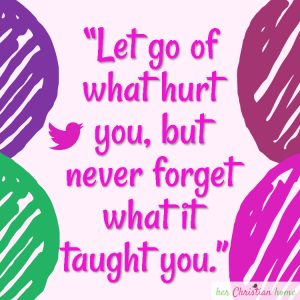 Let go of what hurt you, but never forget what it taught you.
10 Bible Verses to Read on Comfort During Sorrow:
Exodus 3:7 (KJV) And the LORD said, I have surely seen the affliction of my people which are in Egypt, and have heard their cry by reason of their taskmasters; for I know their sorrows;
Psalm 22:24 (KJV) For he hath not despised nor abhorred the affliction of the afflicted; neither hath he hid his face from him; but when he cried unto him, he heard.
Psalm 116:6 (KJV) The LORD preserveth the simple: I was brought low, and he helped me.
Psalm 119:50 (KJV) This is my comfort in my affliction: for thy word hath quickened me.
Psalm 119:76 (KJV) Let, I pray thee, thy merciful kindness be for my comfort, according to thy word unto thy servant.
Isaiah 38:5 (KJV) Go, and say to Hezekiah, Thus saith the LORD, the God of David thy father, I have heard thy prayer, I have seen thy tears: behold, I will add unto thy days fifteen years.
Jeremiah 29:11 (KJV) For I know the thoughts that I think toward you, saith the LORD, thoughts of peace, and not of evil, to give you an expected end.
2 Corinthians 1:3 (KJV) Blessed be God, even the Father of our Lord Jesus Christ, the Father of mercies, and the God of all comfort;
2 Corinthians 1:4 (KJV) Who comforteth us in all our tribulation, that we may be able to comfort them which are in any trouble, by the comfort wherewith we ourselves are comforted of God.
1 Thessalonians 5:11 (KJV) Wherefore comfort yourselves together, and edify one another, even as also ye do.