Day 20 – Learning to Lean on the Lord's Strength
Good morning!
We're continuing WEEK 3 (only ONE more day to go!) for the 21 Day Bible Reading Challenge! (*Start this challenge at any time)
Do you ever feel like you just can't survive another day? During some of our darkest hours we may find ourselves asking, "How can I possibly make it another day?"
During trials, our days become bleak.  We become so weary. We may start to wonder, "Does Jesus really care?"
I love the song, "Does Jesus Care?" because it describes so much how we feel during our dark hours.  And the chorus responds with a resounding "Oh, yes, He cares, I know He cares!"
Oh, yes, He cares, I know He cares,
His heart is touched with my grief;
When the days are weary, the long nights dreary,
I know my Savior cares.
As Christians, we're not necessarily happy to be in the valley. We're human. We hurt. Yes, I believe God can graciously give us an inner peace and JOY when we trust Him during the valley, but it doesn't mean we're happy to be in that spot and that we have to pretend we're not hurting.
How do we go on another day?  With our own strength it may be nearly impossible, but with God, ALL things are possible.
"And Jesus looking upon them saith, With men it is impossible, but not with God: for with God all things are possible."  – Mark 10:27 kjv
So many times, we try to drag ourselves through life in our own strength.  This is not how God meant for us to get through life.  To successfully walk the Christian faith, we NEED God's strength DAILY.  We desperately need His help.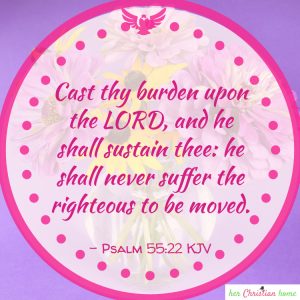 "Cast thy burden upon the LORD, and he shall sustain thee: he shall never suffer the righteous to be moved." – Psalm 55:22 kjv
Today, seek God's strength.  Let the Lord be your rock; lean on Him!  Read God's Word DAILY.  Draw from the direct source of strength…don't drag though another day alone!
Complete Today's Challenge: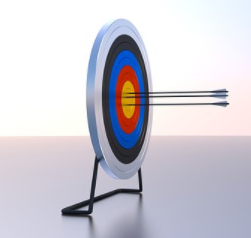 Please spend at least 20 minutes today reading God's Word.  If you have time, write at least ONE Bible verse in your journal.  (*There's 10 Bible Verses below — you can choose one of those to write in your journal, if you wish.)
10 Bible Verses to Read on Strength
1 Chronicles 16:11 (KJV) Seek the LORD and his strength, seek his face continually.
2 Samuel 22:33 (KJV) God is my strength and power: and he maketh my way perfect.
Psalm 18:2 (KJV) The LORD is my rock, and my fortress, and my deliverer; my God, my strength, in whom I will trust; my buckler, and the horn of my salvation, and my high tower.
Psalm 18:32 (KJV) It is God that girdeth me with strength, and maketh my way perfect.
Psalm 19:14 (KJV) Let the words of my mouth, and the meditation of my heart, be acceptable in thy sight, O LORD, my strength, and my redeemer.
Psalm 28:7 (KJV) The LORD is my strength and my shield; my heart trusted in him, and I am helped: therefore my heart greatly rejoiceth; and with my song will I praise him.
Psalm 29:11 (KJV) The LORD will give strength unto his people; the LORD will bless his people with peace.
Psalm 37:39 (KJV) But the salvation of the righteous is of the LORD: he is their strength in the time of trouble.
Psalm 46:1 (KJV) God is our refuge and strength, a very present help in trouble.
Psalm 62:7 (KJV) In God is my salvation and my glory: the rock of my strength, and my refuge, is in God.