Day 19 – Mercy for Yesterday's Mistakes
Good morning!
We're continuing WEEK 3 for the 21 Day Bible Reading Challenge!  (JUMP on board at ANY time, we'd love to you have JOIN in)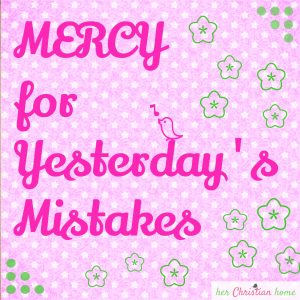 The previous day, we discussed God's GRACE, and so this series would not be complete without also discussing God's MERCY.
Satan often uses our past mistakes to rob us of today's JOY.  We should not be ignorant of all the devices the Devil uses against us. "Lest Satan should get an advantage of us: for we are not ignorant of his devices." – II Corinthians 2:11 kjv "Neither give place to the devil." – Ephesians 4:27 kjv
A battle of mine is constantly reflecting on the stupid things that I've said or done in the past. Most of them are ridiculously silly.  Even though I've asked the Heavenly Father to forgive me, I still seem to frequently pick up the old baggage, and Satan's uses it to weigh me down.
As I ask the Heavenly Father for the umpteenth time to forgive me for sins from the past, God is responding just like the song that says, "What Sins Are You Talking About?"  He doesn't remember them anymore!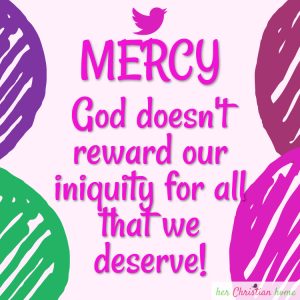 What we often fail to remember in life is that God's MERCY (not rewarding us for all that we deserve) is NOT equal to our own capacity for mercy.  When we give someone mercy, we may still harbor some hurt in our heart, and we don't have the ability to forget like God does.
"… for I will forgive their iniquity, and I will remember their sin no more."  – Jeremiah 31:34b kjv
God's mercy is plenteous and He's faithful and just to forgive us our sins. "If we confess our sins, he is faithful and just to forgive us our sins, and to cleanse us from all unrighteousness." – I John 1:9 kjv
So, we can trust God that He's truly forgiven and forgotten our sin.  Let's not allow Satan to destroy our peace and rob our JOY because of our past mistakes.
We do have to realize that there's often consequences for our past sins just as David experienced when he committed adultery with Bath-sheba. But, God referred to David as a "man after mine own heart" (Acts 13:22 kjv) Aren't you glad that David didn't give up? He humbled himself and made the choice to continue serving God.
Today, accept God's forgiveness, then forgive yourself of past mistakes and accept God's mercy.  Choose to continue serving the Lord and embrace the JOYFUL life that God is offering you.
Complete Today's Challenge: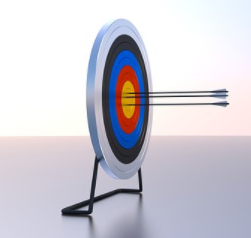 Please spend at least 20 minutes today reading God's Word.  If you have time, write at least ONE Bible verse in your journal.  (*There's 10 Bible Verses below — you can choose one of those to write in your journal, if you wish.)
10 Bible Verses to Read on Mercy from Our Heavenly Father
Psalm 13:5 (KJV) But I have trusted in thy mercy; my heart shall rejoice in thy salvation.
Psalm 25:10 (KJV) All the paths of the LORD are mercy and truth unto such as keep his covenant and his testimonies.
Psalm 31:7 (KJV) I will be glad and rejoice in thy mercy: for thou hast considered my trouble; thou hast known my soul in adversities;
Psalm 32:10 (KJV) Many sorrows shall be to the wicked: but he that trusteth in the LORD, mercy shall compass him about.
Psalm 36:5 (KJV) Thy mercy, O LORD, is in the heavens; and thy faithfulness reacheth unto the clouds.
Psalm 59:16 (KJV) But I will sing of thy power; yea, I will sing aloud of thy mercy in the morning: for thou hast been my defence and refuge in the day of my trouble.
Psalm 66:20 (KJV) Blessed be God, which hath not turned away my prayer, nor his mercy from me.
Psalm 86:5 (KJV) For thou, Lord, art good, and ready to forgive; and plenteous in mercy unto all them that call upon thee.
Psalm 86:15 (KJV) But thou, O Lord, art a God full of compassion, and gracious, longsuffering, and plenteous in mercy and truth.
Psalm 103:8 (KJV) The LORD is merciful and gracious, slow to anger, and plenteous in mercy.