Day 15 – Becoming a Mature Christian Requires Patience
Good morning!
Today, you and I are officially starting WEEK 3 for the 21 Day Bible Reading Challenge!  (JUMP on board at ANY time, we'd love to you have JOIN in)
SIDE NOTE: If your goal is to increase your Bible reading time this year, then please add 5 more minutes to your reading time now.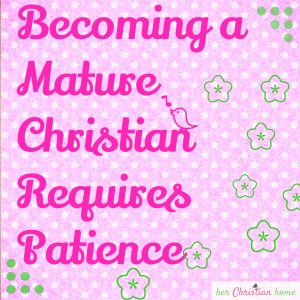 The impatient person does not know peace and JOY.  Waiting on my grandparents to prepare for an outing was agony for me as a child because I lacked patience.  I've grown in patience over the years, but I still hate waiting in lines and at stop lights.
There's a lot to be said for patience in terms of character. The Dictionary defines patience as the quality of being patient, as the bearing of provocation, annoyance, misfortune, or pain, without complaint, loss of temper, irritation, or the like.
As we mature as Christians, we should learn about WAITING on the Lord.  We need to grow in character and learn patience.  This patience should mercifully extend to others around us, but especially to God as we wait upon Him to allow the pieces of our life to unfold the way He has planned for us.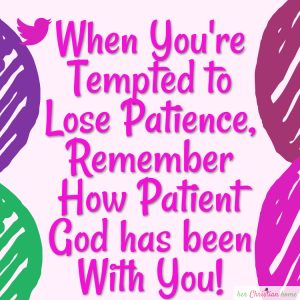 When You're Tempted to Lose Patience, Remember How Patient God has been With You!
In our modern (technical) society we have learned to expect and demand things quickly, but the things with great FOUNDATIONS do not happen overnight. A tree takes years to grow, and the roots run deeply to keep the tree planted firmly in position to endure the terrible storms. A building that will be the most stable and built to last will be carefully planned with the best foundation possible.
Becoming a mature Christian does not happen overnight.  We must keep feeding on the Word of God to grow stronger as Christians. God's Word is our solid FOUNDATION.
Remember, during our trials, we must learn to be patient and wait on God.  Patience will yield more JOY, peace and contentment in our life.
Complete Today's Challenge: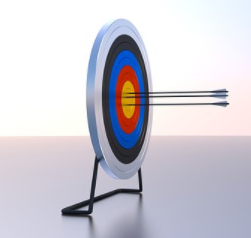 Please spend at least 20 minutes today reading God's Word.  If you have time, write at least ONE Bible verse in your journal.  (*There's 10 Bible Verses below — you can choose one of those to write in your journal, if you wish.)
10 Bible Verses to Read on Waiting:
Psalm 27:14 (KJV) Wait on the LORD: be of good courage, and he shall strengthen thine heart: wait, I say, on the LORD.
Psalm 37:7 (KJV) Rest in the LORD, and wait patiently for him: fret not thyself because of him who prospereth in his way, because of the man who bringeth wicked devices to pass.
Psalm 52:9 (KJV) I will praise thee for ever, because thou hast done it: and I will wait on thy name; for it is good before thy saints.
Psalm 59:9 (KJV) Because of his strength will I wait upon thee: for God is my defence.
Psalm 62:5 (KJV) My soul, wait thou only upon God; for my expectation is from him.
Psalm 130:5 (KJV) I wait for the LORD, my soul doth wait, and in his word do I hope.
Isaiah 40:31 (KJV) But they that wait upon the LORD shall renew their strength; they shall mount up with wings as eagles; they shall run, and not be weary; and they shall walk, and not faint.
Lamentations 3:25 (KJV) The LORD is good unto them that wait for him, to the soul that seeketh him.
Hosea 12:6 (KJV) Therefore turn thou to thy God: keep mercy and judgment, and wait on thy God continually.
Micah 7:7 (KJV) Therefore I will look unto the LORD; I will wait for the God of my salvation: my God will hear me.