Day 16 – About the Ugly Monster of Pride
Good morning!
We're continuing WEEK 3 for the 21 Day Bible Reading Challenge!  (JUMP on board at ANY time, we'd love to you have JOIN in)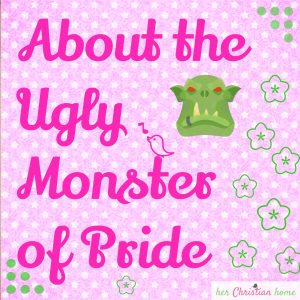 Pride is like an ugly monster lurking inside that destroys our peace and JOY in life.  If there were ever a worthy cause, oh let it be to cast out the pride that hides inside!
Pride is at the root of most conflicts because the one bearing pride can never be wrong. Even if he / she may be right, pride will not allow an argument slide.
When Jesus was betrayed by Judas, you do not see Jesus giving much attention to Judas or drawing out a big argument.  Yes, I realize that Jesus understood his purpose and submitted himself for the purpose to be fulfilled.  But, this is exactly what we also need to learn.  We need to submit our situation to our Heavenly Father and let Him take control.  Do not let pride hinder your Christ-like attitude.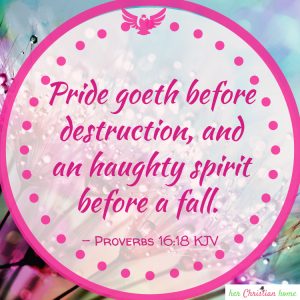 Pride is a HUGE destroyer of peace.  Pride destroys relationships. Pride continually allows one to feel mistreated because they deserve better. Pride builds hard walls around our hearts and binds us with chains that destroys our freedom in Christ.  Pride is a deceiver.
Pride keeps our heart lifted up so that we might not humble ourselves before God.  Pride keeps us from building a close relationship to our Heavenly Father.
Overcome pride by first admitting that it is sin in your life and asking forgiveness from God.  Next, ask God to help your heart become more pliable and to open your eyes when pride gets in the way.  Thirdly, memorize Scripture dealing with pride.
God's Word is always the answer and solution to our personal struggles.  God LOVES each one of us, and He is so MERCIFUL because He remembers we're but flesh.  "For he knoweth our frame; he remembereth that we are dust."  ~ Psalm 103:14 KJV
Complete Today's Challenge: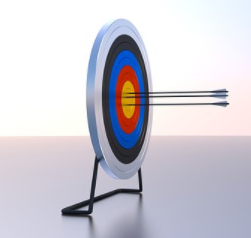 Please spend at least 20 minutes today reading God's Word.  If you have time, write at least ONE Bible verse in your journal.  (*There's 10 Bible Verses below — you can choose one of those to write in your journal, if you wish.)
10 Bible Verses to Read on Pride:
Psalm 10:4 (KJV) The wicked, through the pride of his countenance, will not seek after God: God is not in all his thoughts.
Proverbs 8:13 (KJV) The fear of the LORD is to hate evil: pride, and arrogancy, and the evil way, and the froward mouth, do I hate.
Proverbs 11:2 (KJV) When pride cometh, then cometh shame: but with the lowly is wisdom.
Proverbs 13:10 (KJV) Only by pride cometh contention: but with the well advised is wisdom.
Proverbs 14:3 (KJV) In the mouth of the foolish is a rod of pride: but the lips of the wise shall preserve them.
Proverbs 16:18 (KJV) Pride goeth before destruction, and an haughty spirit before a fall.
Proverbs 29:23 (KJV) A man's pride shall bring him low: but honour shall uphold the humble in spirit.
Daniel 5:20 (KJV) But when his heart was lifted up, and his mind hardened in pride, he was deposed from his kingly throne, and they took his glory from him:
Obadiah 3 (KJV) The pride of thine heart hath deceived thee, thou that dwellest in the clefts of the rock, whose habitation is high; that saith in his heart, Who shall bring me down to the ground?
1 John 2:16 (KJV) For all that is in the world, the lust of the flesh, and the lust of the eyes, and the pride of life, is not of the Father, but is of the world.