Day 11 – Don't Let Anxiety Rob Your Joy
Good morning!
We're continuing our SECOND week of the 21 Day Bible Reading Challenge!  (JUMP on board at ANY time, we'd love to you have JOIN in)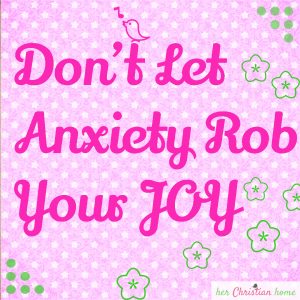 How do you deal with anxiety?
Stressful situations seem to seep into our lives. Isn't it terrible that they never give us a call a day ahead to warn us they're coming? Instead, they show up at the most inconvenient times.  (And truthfully, is there any convenient time for them to come?)
I wish we could avoid those situations and that every day could always have a happy fairy tale ending. Unfortunately, there is none of us who can avoid stressful circumstances.
But, how we respond to stressful situations can either bring on high anxiety, robbing our peace and JOY, or we can hand them over to God and allow Him to give us extra strength and courage though them.
One of the greatest tragedies in life is not letting God be God.
*Side note: I do want to say that as women, we may also have emotional, hormonal or health issues that we're dealing with that may make it very difficult to avoid anxiety attacks. In saying that, we need to be careful of judging other women who may struggle in this area.  Each person will have to be responsible to maintain their health and determine if they need a professional to intervene with their situation.
God surely does want us to be able to have JOY and peace in our lives.  Do we not want that for our own children?  Remember, our Heavenly Father loves us more than we could possibly love our own children.
As a child, I didn't worry about the bills.  I had faith that my parents would supply my basic needs and handle the things that were above my understanding and control.
As we get older, we're faced with a lot more responsibilities, and with these responsibilities we tend to grab on for dear life and closely analyze every situation.  If the situation feels frightening or out of control, we begin to fret.  We want the security that everything will turn out fine.
The unknown is scary.  Bad news is scary.  What about tomorrow?
We start asking a lot of "what ifs" and other questions.
Your Action Checklist Against Stressful Situations:
Act immediately — first, thank the Lord for your situation!  
This immediately helps you gain a positive perspective of the situation.  If it's a really terrible tragedy you're dealing with, then thank God for those who are intervening on your behalf. (For example: doctors and nurses who are trying to help.)
 In every thing give thanks: for this is the will of God in Christ Jesus concerning you.  -1 Thessalonians 5:18 (KJV)
Next, pray about it.
Be careful for nothing; but in every thing by prayer and supplication with thanksgiving let your requests be made known unto God. – Philippians 4:6 (KJV)
Depend on God. Read His Word because it increases our faith!
So then faith cometh by hearing, and hearing by the word of God.  – Romans 10:17 (KJV)
"Every tomorrow has two handles. We can grab the handle of anxiety or the handle of faith."
Complete Today's Challenge: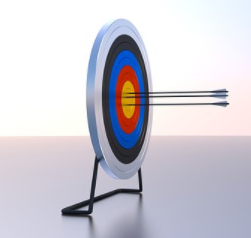 Please spend at least 15 minutes today reading God's Word.  If you have time, write at least ONE Bible verse in your journal.  (*There's 10 Bible Verses below — you can choose one of those to write in your journal, if you wish.)
10 Bible Verses to Remember During Times of Stress:
Deuteronomy 31:8 (KJV) And the LORD, he it is that doth go before thee; he will be with thee, he will not fail thee, neither forsake thee: fear not, neither be dismayed.
Psalm 55:22 (KJV) Cast thy burden upon the LORD, and he shall sustain thee: he shall never suffer the righteous to be moved.
Psalm 119:165 (KJV) Great peace have they which love thy law: and nothing shall offend them.
Proverbs 16:7 (KJV) When a man's ways please the LORD, he maketh even his enemies to be at peace with him.
Isaiah 26:3 (KJV) Thou wilt keep him in perfect peace, whose mind is stayed on thee: because he trusteth in thee.
Isaiah 41:10 (KJV) Fear thou not; for I am with thee: be not dismayed; for I am thy God: I will strengthen thee; yea, I will help thee; yea, I will uphold thee with the right hand of my righteousness.
Matthew 10:29 (KJV) Are not two sparrows sold for a farthing? and one of them shall not fall on the ground without your Father.
Matthew 11:28 (KJV) Come unto me, all ye that labour and are heavy laden, and I will give you rest.
Matthew 11:29 (KJV) Take my yoke upon you, and learn of me; for I am meek and lowly in heart: and ye shall find rest unto your souls.
Luke 12:7 (KJV) But even the very hairs of your head are all numbered. Fear not therefore: ye are of more value than many sparrows.