Day 12 – Stop Comparing Yourself to Others
Good morning!
We're continuing our SECOND week of the 21 Day Bible Reading Challenge!  (JUMP on board at ANY time, we'd love to you have JOIN in)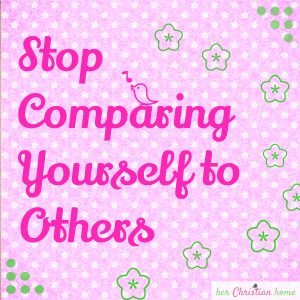 Our human nature seems to be prone to compare ourselves with others. Perhaps we wish we were a little taller or shorter, or maybe we wish we had the ability to sing like Betty Sue, or maybe we wish we had the artistic ability of Mary Jane.
Truthfully, when we get caught up in comparing ourselves, the underlying culprit is DISCONTENTMENT.  Nothing robs our JOY faster than discontentment!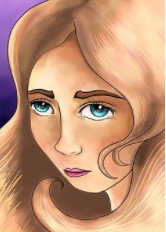 "If you are comparing yourself to others, you are not trusting God to work with what He has created. You are unable to trust God because you don't like the way HE made you."  ~ Candace Hobby, Arkansas, (Excerpt from Christian Womanhood Magazine)
God has created each one of us with unique features, personalities and abilities.  To strike down discontentment, we must start with a GRATEFUL heart for what God has already given us.
I'll be the first to admit that I've WASTED time wishing I had a more outgoing personality, different body features, better talents, etc.  When I compare or pick myself apart, I'm wasting away what God has already blessed me with.  It's like me saying, "God, you're not fair… why didn't you give me a better voice to sing with? What were you thinking when you made me?  You made a mistake!"
God makes no mistakes.  We can ALL be a godly influence on someone out there. My personality allows me to reach out to some people that you would not be able to reach.  And vice versa – you can reach people with your personality that I cannot reach.
My talents seem so minimum, but God is NOT looking for talent… He's looking for AVAILABILITY and DEPENDABILITY!  Can God work through YOU today?  Are you willing?
Rather than wishing for better talent – seek wisdom.  Rather than sulking over your personality, reach out to the needy… someone out there needs YOU!
Don't let Satan rob your JOY with the degrading tools of comparison and discontentment.
 Complete Today's Challenge: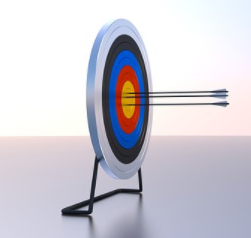 Please spend at least 15 minutes today reading God's Word.  If you have time, write at least ONE Bible verse in your journal.  (*There's 10 Bible Verses below — you can choose one of those to write in your journal, if you wish.)
10 Bible Verses to Read on Happiness and Contentment:
Psalm 144:15 (KJV) Happy is that people, that is in such a case: yea, happy is that people, whose God is the LORD.
Psalm 146:5 (KJV) Happy is he that hath the God of Jacob for his help, whose hope is in the LORD his God:
Proverbs 3:13 (KJV) Happy is the man that findeth wisdom, and the man that getteth understanding.
Proverbs 3:18 (KJV) (Speaking of wisdom) She is a tree of life to them that lay hold upon her: and happy is every one that retaineth her.
Proverbs 14:21 (KJV) He that despiseth his neighbour sinneth: but he that hath mercy on the poor, happy is he.
Proverbs 16:20 (KJV) He that handleth a matter wisely shall find good: and whoso trusteth in the LORD, happy is he.
Philippians 4:11 (KJV) Not that I speak in respect of want: for I have learned, in whatsoever state I am, therewith to be content.
1 Timothy 6:8 (KJV) And having food and raiment let us be therewith content.
Hebrews 13:5 (KJV) Let your conversation be without covetousness; and be content with such things as ye have: for he hath said, I will never leave thee, nor forsake thee.
1 Peter 4:14 (KJV) If ye be reproached for the name of Christ, happy are ye; for the spirit of glory and of God resteth upon you: on their part he is evil spoken of, but on your part he is glorified.