Day 9 –  Pep Talk: How to Conquer Sabotage by Satan
Good morning! 
We're continuing our SECOND week of the 21 Day Bible Reading Challenge! (Join in at ANY time!)
Today's topic will hopefully encourage you to keep taking another step forward!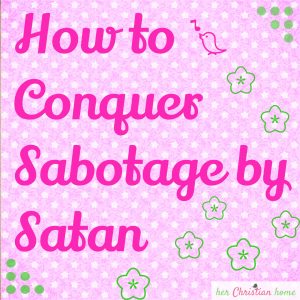 At the beginning of the year, we often get motivated to walk closer to God.  We set up some great goals to read our Bible and pray every day.  We're so excited because THIS time we're going to do better than ever before!
We start out strong.  As a couple of days pass, we feel elated that we're still in the race.  We're off to a good start just as we planned we would be!
And then, one morning an unexpected interruption occurs. We end up getting side-tracked and never get back to our Bible reading. Things begin to plummet downward because after missing a couple of days of reading our Bible, it just seems impossible to squeeze it back into our day.
We FEEL like a failure as a Christian because once again we didn't stick in there.
Have you wondered why it's so DIFFICULT to consistently read your Bible and pray?
You can be sure that Satan is out to sabotage your efforts.  He knows your weakness and mine.  He will ALWAYS throw many obstacles in our way to throw us off track. Be encouraged to know that you're not alone with this battle.
Without a doubt, there is not one of us perfect. (Romans 3:10)   We ALL fall off the wagon at times, but the difference is the ONE who keeps getting back up will keep progressing FORWARD.
Every one of them is gone back: they are altogether become filthy; there is none that doeth good, no, not one.  – Psalm 53:3 KJV
For a just man falleth seven times, and riseth up again: but the wicked shall fall into mischief. – Proverbs 24:16 KJV
Don't let Satan rob the JOY that you'll receive by walking closer to God this year!
Don't stay down on the ground!  When you fall off the wagon, get back up.  Let's keep going for the glory of God!
God is NOT waiting for you to become PERFECT before He can work through you.  He loves you right where you're at today.
To receive all God's blessings, just keep putting Him back into FIRST place when you fall off track.  Conquer Satan's sabotage using the Word of God and memorizing Scripture.
My pastor often reminds us with this saying…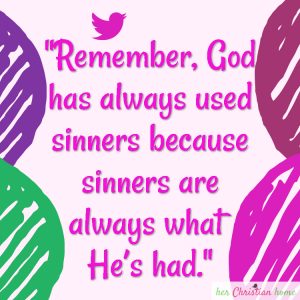 Remember, God has always used sinners because sinners are always what He's had.
Check out God's Word >>>  ALL our Bible heroes were sinners with failures along the way, too!
Complete Today's Challenge: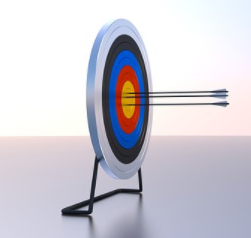 Please spend at least 15 minutes today reading God's Word.  If you have time, write at least ONE Bible verse in your journal.  (*There's 10 Bible Verses below — you can choose one of those to write in your journal, if you wish.)
10 Bible Verses to Read on Winning Victory:
Deuteronomy 20:4 (KJV) For the LORD your God is he that goeth with you, to fight for you against your enemies, to save you.
Psalm 119:11 (KJV) Thy word have I hid in mine heart, that I might not sin against thee.
1 Corinthians 10:13 (KJV) There hath no temptation taken you but such as is common to man: but God is faithful, who will not suffer you to be tempted above that ye are able; but will with the temptation also make a way to escape, that ye may be able to bear it.
Galatians 5:1 (KJV) Stand fast therefore in the liberty wherewith Christ hath made us free, and be not entangled again with the yoke of bondage.
Ephesians 6:11 (KJV) Put on the whole armour of God, that ye may be able to stand against the wiles of the devil.
2 Timothy 4:7 (KJV)  I have fought a good fight, I have finished my course, I have kept the faith:
Hebrews 4:12 (KJV) For the word of God is quick, and powerful, and sharper than any twoedged sword, piercing even to the dividing asunder of soul and spirit, and of the joints and marrow, and is a discerner of the thoughts and intents of the heart.
James 4:7 (KJV) Submit yourselves therefore to God. Resist the devil, and he will flee from you.
1 Peter 5:8 (KJV) Be sober, be vigilant; because your adversary the devil, as a roaring lion, walketh about, seeking whom he may devour:
1 John 4:4 (KJV) Ye are of God, little children, and have overcome them: because greater is he that is in you, than he that is in the world.