Day 21- Continuing On… Yes, We Can!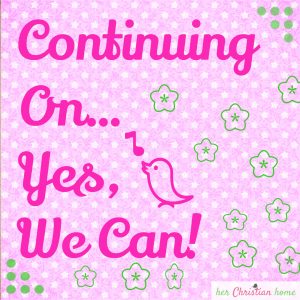 Good morning!
Today is our LAST day for the 21-Day Bible Reading Challenge.  So, what about the rest of the year?  Will you continue to challenge yourself to read your Bible daily?
Remember, it takes COMMITMENT as a TOP priority to continue reading your Bible daily. (Review > Day 14 – Make a Full-Fledged Commitment to Read God's Word)
As I read Deuteronomy 6:5-7 this morning my heart was convicted once again.
"And thou shalt love the LORD thy God with all thine heart, and with all thy soul, and with all thy might. And these words, which I command thee this day, shall be in thine heart: And thou shalt teach them diligently unto thy children, and shalt talk of them when thou sittest in thine house, and when thou walkest by the way, and when thou liest down, and when thou risest up."
First, from the Scripture above we see that we need to LOVE the Lord our God.  If we love Him with all our heart, we'll want to do His commandments to please Him.  (John 14:15 kjv)
Secondly, we see that we should put God's words in our heart.  Memorizing Scripture is a good way to keep them in our heart and close to us– and as a weapon against temptations from Satan. (Join in on my Monthly Bible Memorization Challenges if you want help in that area.)
Thirdly, we're to teach God's Word to our children.  We are also to TALK about His Word when we sit at home, when we walk, when we lay down and when we get up again.
Wowee!  It seems like I need to do a LOT MORE TALKING about the Word of God in my daily life.  That convicts my heart! And I won't have much to talk about if I'm not in His Word daily. Right?!?
Continue this year and thereafter reading God's Word as a necessary part of your daily life!
It's easy to slowly work our way back to letting things go undone, but let's purpose NOT to be a forgetful hearer.  "But whoso looketh into the perfect law of liberty, and continueth therein, he being not a forgetful hearer, but a doer of the work, this man shall be blessed in his deed." – James 1:25 kjv
Some days you'll be very stressed and will have to encourage yourself in the Lord, just as David had to do. (1 Samuel 30:6 kjv) Stay in the WORD!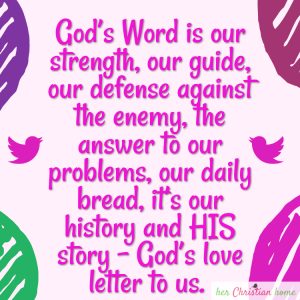 God's Word is our strength, our guide, our defense against the enemy, the answer to our problems, our daily bread, it's our history and HIS story – God's love letter to us.
Please don't let the dust collect on your Bible, dear Christian!
Complete Today's Challenge: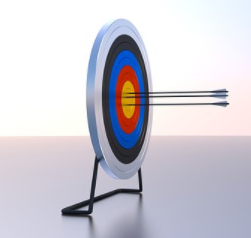 Please spend at least 20 minutes today reading God's Word.  If you have time, write at least ONE Bible verse in your journal.  (*There's 10 Bible Verses below — you can choose one of those to write in your journal, if you wish.)
10 Bible Verses to Read on Loving the Lord our God
Deuteronomy 7:9 (KJV) Know therefore that the LORD thy God, he is God, the faithful God, which keepeth covenant and mercy with them that love him and keep his commandments to a thousand generations;
Deuteronomy 30:16 (KJV) In that I command thee this day to love the LORD thy God, to walk in his ways, and to keep his commandments and his statutes and his judgments, that thou mayest live and multiply: and the LORD thy God shall bless thee in the land whither thou goest to possess it.
Joshua 22:5 (KJV) But take diligent heed to do the commandment and the law, which Moses the servant of the LORD charged you, to love the LORD your God, and to walk in all his ways, and to keep his commandments, and to cleave unto him, and to serve him with all your heart and with all your soul.
Joshua 23:8 (KJV) But cleave unto the LORD your God, as ye have done unto this day.
Joshua 23:11 (KJV) Take good heed therefore unto yourselves, that ye love the LORD your God.
Psalm 31:23 (KJV) O love the LORD, all ye his saints: for the LORD preserveth the faithful, and plentifully rewardeth the proud doer.
Psalm 40:16 (KJV) Let all those that seek thee rejoice and be glad in thee: let such as love thy salvation say continually, The LORD be magnified.
Psalm 145:20 (KJV) The LORD preserveth all them that love him: but all the wicked will he destroy.
Matthew 22:37 (KJV) Jesus said unto him, Thou shalt love the Lord thy God with all thy heart, and with all thy soul, and with all thy mind.
Luke 10:27 (KJV) And he answering said, Thou shalt love the Lord thy God with all thy heart, and with all thy soul, and with all thy strength, and with all thy mind; and thy neighbour as thyself.