Day 6 – Pep Talk: The Blessings of Peace and Joy are Within Reach
Good morning!
We have just ONE more day to go to complete our FIRST week for our challenge.  I'm proud of you!
*Join us in our 21 Day Bible Reading Challenge at any time!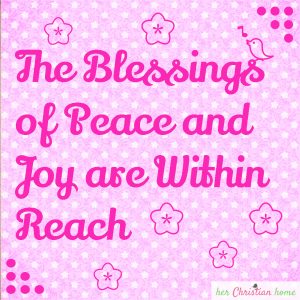 All mankind seems to crave peace, but very few know how to find it.  From God's Word we see that it's biblical to seek peace and pursue it.  It's a worthy cause!
Let's look at what God's Word says…

Depart from evil, and do good; seek peace, and pursue it.  – Psalm 34:14 kjv
It seems obvious to me that prior to seeking PEACE we are to do two basic actions:  depart from evil and do good.
Where exactly are the GUIDELINES for us to know what is evil and what is good?  You've got it right!  God's Holy Word!
If we're not reading our Bible, we're sure to be left with many hurtful messes in our life to fix.
I want to lay another thought before you….
Could our WORDS be the root cause of many calamities in our life?
Keeping peace with those around us can be a challenge, especially if our personality is one to "speak our mind" about matters.  We must lean on God's wisdom to know when to keep our lips closed and when it's time to speak up.  Ask the Holy Spirit to guide you daily in your choice of words.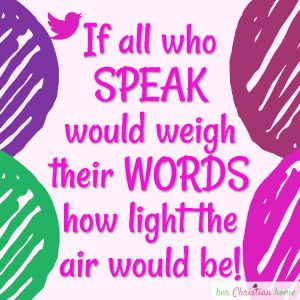 If all who speak would weigh their words, how light the air would be!
We have an OPPORTUNITY to study the example of Jesus in the Bible.  He was the ultimate EXAMPLE of gentleness.  Yet, he took sin very seriously; he spoke up harshly against wrong doers (Pharisees), calling them out as snakes! (Matthew 23:33)
Most of the time; however, we should keep negative thoughts and criticism to ourselves. Uttering all our thoughts to those attempting to start an argument will also cause more chaos.   We will know the difference of how to choose our words as we gain understanding and wisdom from God's Word.
Even a fool, when he holdeth his peace, is counted wise: and he that shutteth his lips is esteemed a man of understanding. – Proverbs 17:28 KJV
In a world full of turmoil, it can seem impossible to obtain peace, but as Christians, who are YIELDED to the Holy Spirit, we can have an inner peace from our Heavenly Father.
But the fruit of the Spirit is love, JOY, PEACE, longsuffering, gentleness, goodness, faith, – Galatians 5:22 kjv
One of the many blessings of the Lord, when we live for Him, is PEACE and JOY!  The closer we stay to God, the more uprightly we will live — and the more peace we will obtain!
By the way, better peace enhances better rest.  Better rest enhances better health.  Peace and joy certainly will yield a more fulfilled life, don't you think!?!
Complete Today's Challenge: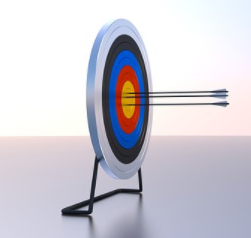 Please spend at least 10 minutes today reading God's Word.  If you have time, write at least ONE Bible verse in your journal.  (*There's 10 Bible Verses below — you can choose one of those to write in your journal, if you wish.)
10 Bible Verses to Read on Peace
Psalm 4:8 (KJV) I will both lay me down in peace, and sleep: for thou, LORD, only makest me dwell in safety.
Psalm 29:11 (KJV) The LORD will give strength unto his people; the LORD will bless his people with peace.
Psalm 34:14 (KJV) Depart from evil, and do good; seek peace, and pursue it.
Psalm 37:11 (KJV) But the meek shall inherit the earth; and shall delight themselves in the abundance of peace.
Psalm 119:165 (KJV) Great peace have they which love thy law: and nothing shall offend them.
Proverbs 16:7 (KJV) When a man's ways please the LORD, he maketh even his enemies to be at peace with him.
Isaiah 26:3 (KJV) Thou wilt keep him in perfect peace, whose mind is stayed on thee: because he trusteth in thee.
John 14:27 (KJV) Peace I leave with you, my peace I give unto you: not as the world giveth, give I unto you. Let not your heart be troubled, neither let it be afraid.
John 16:33 (KJV) These things I have spoken unto you, that in me ye might have peace. In the world ye shall have tribulation: but be of good cheer; I have overcome the world.
1 Corinthians 14:33 (KJV) For God is not the author of confusion, but of peace, as in all churches of the saints.