Day 17 – 5 Reasons to Practice Praise
Good morning!
We're continuing WEEK 3 for the 21 Day Bible Reading Challenge!  (JUMP on board at ANY time, we'd love to you have JOIN in)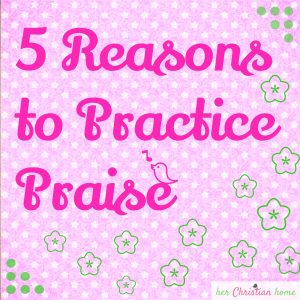 Sometimes as Christian we mentally feel a little hesitant at the term "Praising God."  We may picture ourselves attempting a theatrical performance of babbling out a thousand names of praise to God.
Praise is certainly biblical and should be done, but first we must understand it's purpose to know how best it can be used in our life.
Five important reasons to praise God…
God is worthy of our praise. I will call upon the LORD, who is worthy to be praised: so shall I be saved from mine enemies. – Psalm 18:3 kjv
The continual sacrifice of praise and thanksgiving is biblical. By him therefore let us offer the sacrifice of praise to God continually, that is, the fruit of our lips giving thanks to his name. – Hebrews 13:15 kjv
Praise allows us to enter into prayer before God's presence with the right heart and attitude. Enter into his gates with thanksgiving, and into his courts with praise: be thankful unto him, and bless his name. – Psalm 100:4 kjv.
We encourage each other with our praises to God. I will declare thy name unto my brethren: in the midst of the congregation will I praise thee. – Psalm 22:22 kjv
Our blessings are a testimony to the heathen when we publicly praise God. And he leaping up stood, and walked, and entered with them into the temple, walking, and leaping, and praising God.  And all the people saw him walking and praising God:  – Acts 3:8,9
And it shall be to me a name of joy, a praise and an honour before all the nations of the earth, which shall hear all the good that I do unto them: and they shall fear and tremble for all the goodness and for all the prosperity that I procure unto it. – Jeremiah 33:9 kjv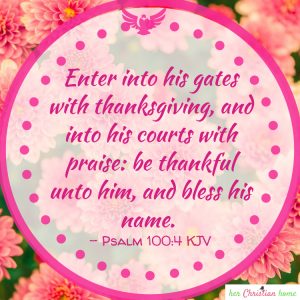 How can we Praise God?
Praising isn't meant to be some type of theatrical performance.  That would bring the focus and glory towards us.  It's meant to direct and shower ALL the glory toward God.
We praise God by thanking Him personally for all the mighty things He's done in our life and in the lives of others.  We can also praise God by singing songs of praise to Him.  We can also share with the world how God has blessed us, especially when He has answered a prayer and provided for our needs.
I do believe praise will create a JOYFUL heart and attitude within us. Praise is a wonderful opportunity to give glory to God.  Reading God's Word daily can also open our understanding to His mighty power. When we read of God's mighty deeds in His Word, we will never lack for words of Praise to God.
Complete Today's Challenge: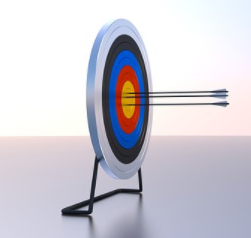 Please spend at least 20 minutes today reading God's Word.  If you have time, write at least ONE Bible verse in your journal.  (*There's 10 Bible Verses below — you can choose one of those to write in your journal, if you wish.)
10 Bible Verses to Read on Praise
Psalm 7:17 (KJV) I will praise the LORD according to his righteousness: and will sing praise to the name of the LORD most high.
Psalm 9:2 (KJV) I will be glad and rejoice in thee: I will sing praise to thy name, O thou most High.
Psalm 21:13 (KJV) Be thou exalted, LORD, in thine own strength: so will we sing and praise thy power.
Psalm 28:7 (KJV) The LORD is my strength and my shield; my heart trusted in him, and I am helped: therefore my heart greatly rejoiceth; and with my song will I praise him.
Psalm 33:1 (KJV) Rejoice in the LORD, O ye righteous: for praise is comely for the upright.
Psalm 34:1 (KJV) I Will bless the LORD at all times: his praise shall continually be in my mouth.
Psalm 35:28 (KJV) And my tongue shall speak of thy righteousness and of thy praise all the day long.
Psalm 40:3 (KJV) And he hath put a new song in my mouth, even praise unto our God: many shall see it, and fear, and shall trust in the LORD.
Psalm 44:8 (KJV) In God we boast all the day long, and praise thy name for ever. Selah.
Psalm 56:4 (KJV) In God I will praise his word, in God I have put my trust; I will not fear what flesh can do unto me.