Day 5 – Pep Talk: Trusting God Brings More Joy
Good morning!
We have just TWO more days to go to complete our FIRST week of establishing a more consistent (DAILY) Bible reading schedule.  Even if you've dropped the ball along the way, let's just pick it back up and keep going!  You can do this!
*Join us in our 21 Day Bible Reading Challenge at any time!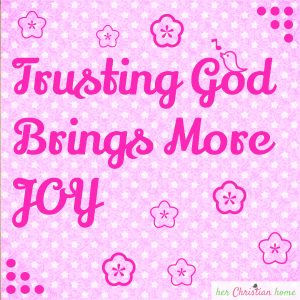 Could it be that we are complicating life…and failing to let our faith grow on a regular basis?
One thing that quickly robs of us of JOY is letting fear prevail during times of trouble.  Of course, READING our Bible will daily remind us of God's mighty power and about all His great wonders He's done in times past.
We still serve the SAME God that parted the Red Sea for the Israelites!  We still serve the SAME God that shut the mouths of the lions when Daniel was in the lion's den.  We still serve the SAME God that used David's little stone to bring down the big giant!

God has no limitations in His power – So why aren't we trusting Him more!?!
To grow our faith is as easy as watering a plant daily!  READ the Word of God today!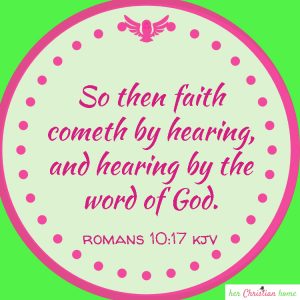 So then faith cometh by hearing, and hearing by the word of God. Romans 10:17 (KJV)
Simply trusting every day;
Trusting through a stormy way;
Even when my faith is small,
Trusting Jesus, that is all.
Complete Today's Challenge: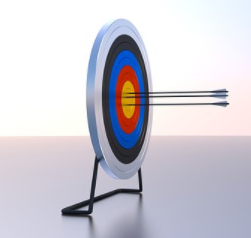 Please spend at least 10 minutes today reading God's Word.  If you have time, write at least ONE Bible verse in your journal.  (*There's 10 Bible Verses below — you can choose one of those to write in your journal, if you wish.)
10 Bible Verses to Read on Trusting God:
2 Samuel 22:3 (KJV) The God of my rock; in him will I trust: he is my shield, and the horn of my salvation, my high tower, and my refuge, my saviour; thou savest me from violence.
Psalm 9:10 (KJV) And they that know thy name will put their trust in thee: for thou, LORD, hast not forsaken them that seek thee.
Psalm 31:19 (KJV) Oh how great is thy goodness, which thou hast laid up for them that fear thee; which thou hast wrought for them that trust in thee before the sons of men!
Psalm 37:5 (KJV) Commit thy way unto the LORD; trust also in him; and he shall bring it to pass.
Psalm 56:3 (KJV) What time I am afraid, I will trust in thee.
Psalm 73:28 (KJV) But it is good for me to draw near to God: I have put my trust in the Lord GOD, that I may declare all thy works.
Psalm 143:8 (KJV) Cause me to hear thy lovingkindness in the morning; for in thee do I trust: cause me to know the way wherein I should walk; for I lift up my soul unto thee.
Proverbs 3:5 (KJV) Trust in the LORD with all thine heart; and lean not unto thine own understanding.
Isaiah 26:4 (KJV) Trust ye in the LORD for ever: for in the LORD JEHOVAH is everlasting strength:
Nahum 1:7 (KJV) The LORD is good, a strong hold in the day of trouble; and he knoweth them that trust in him.