Day 14 – Make a Full-Fledged Commitment to Read God's Word
Good morning!
Yippee!  Today, you've completed TWO full weeks of the 21 Day Bible Reading Challenge!  (JUMP on board at ANY time, we'd love to you have JOIN in)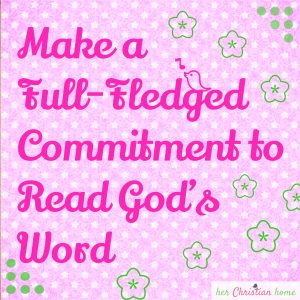 We discussed earlier in this series how Satan sabotages our efforts.  We know we're in a real battle against our enemy.  He will ALWAYS set out obstacles to get us to stumble off the right path. (Review Day 9 – How to Conquer Sabotage by Satan)
But, there's another underlying PROBLEM that may be lurking behind the scenes that causes us to FAIL in READING our Bible…
Lack of "Commitment" to the work to be done.
Commitment means pledging to do something, to obligate yourself.  Many people desire to READ their Bible, pray more, and serve the Lord more, but those attempts seem to fizzle out.
Sometimes, the underlying culprit is that they haven't made a FULL-FLEDGED commitment to the TASKS or WORK that they need to do.
Think of something that you fully committed to doing, and it HAD to be done NO MATTER what.  In other words, you'd literally work yourself to the grave trying to make sure it was completed…your name was on the line, and you had to see that it got done!
That's REAL commitment!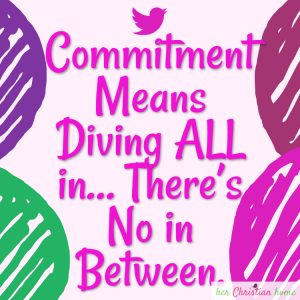 Commitment means diving ALL in… there's no in between.
Today, I'm not only urging you once again to commit your life to the Lord.  (Review Day 1 – Do Not Fear to Commit Your Life to God), but also to take a closer LOOK at the WORK you need to do to draw closer to God and for God… make those TASKS a commitment!
There's JOY in serving the Lord Jesus! Don't miss out because of your lack of commitment to the cause of Christ!
Complete Today's Challenge: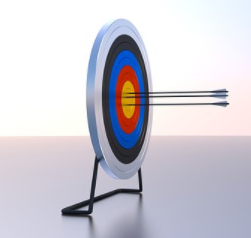 Please spend at least 15 minutes today reading God's Word.  If you have time, write at least ONE Bible verse in your journal.  (*There's 10 Bible Verses below — you can choose one of those to write in your journal, if you wish.)
10 Bible Verses to Read on Working for the Lord
Proverbs 10:16 (KJV) The labour of the righteous tendeth to life: the fruit of the wicked to sin.
Ecclesiastes 9:10 (KJV) Whatsoever thy hand findeth to do, do it with thy might; for there is no work, nor device, nor knowledge, nor wisdom, in the grave, whither thou goest.
Matthew 6:24 (KJV) No man can serve two masters: for either he will hate the one, and love the other; or else he will hold to the one, and despise the other. Ye cannot serve God and mammon.
Romans 2:6 (KJV) Who will render to every man according to his deeds:
Galatians 6:9 (KJV) And let us not be weary in well doing: for in due season we shall reap, if we faint not.
Colossians 3:23 (KJV) And whatsoever ye do, do it heartily, as to the Lord, and not unto men;
Colossians 3:24 (KJV) Knowing that of the Lord ye shall receive the reward of the inheritance: for ye serve the Lord Christ.
2 Timothy 2:15 (KJV) Study to shew thyself approved unto God, a workman that needeth not to be ashamed, rightly dividing the word of truth.
Hebrews 6:10 (KJV) For God is not unrighteous to forget your work and labour of love, which ye have shewed toward his name, in that ye have ministered to the saints, and do minister.
James 2:17 (KJV) Even so faith, if it hath not works, is dead, being alone.