Day 8 – How to Win Over Worry
Good morning!
Today we are starting our SECOND week of the 21 Day Bible Reading Challenge! Yippee! (JUMP on board with the challenge at any time!)
> I want to encourage you to increase your Bible reading time by 5 more minutes if your goal is to increase your Bible reading time this year.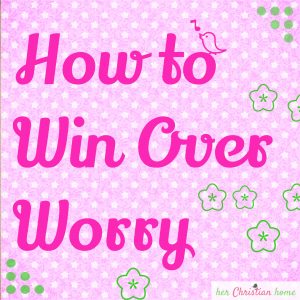 I know some people are prone to worry more than others, but unfortunately, none of us are totally immune to worrying.    Worry is one surefire way to rob your peace and steal away your JOY.
Why do we worry so much?  As Christians, we can be a lot like Peter.   At first, we might have our eyes on Jesus (feeling secure), but as we begin to glance around and see all the boisterous waves in the storm, we become fearful.  Soon, we start to sink in the worry.
Some of us have true reasons to worry due to present circumstances; others live in the "what if" world and worry about potential calamity that might come their way.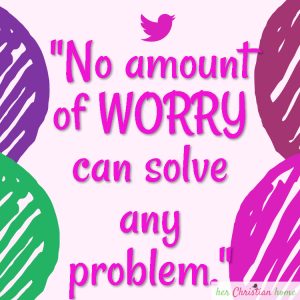 No amount of worry can solve any problem.
No matter what the circumstances may be, we must keep our eyes on Jesus if we have any chance at all living a JOYFUL life.  Worry and peace are not compatible.  JOYFULNESS and fretfulness are not compatible.
The saying, "why worry when you can pray" probably seems a little overused to some, but when we really understand that God is in control of EVERY situation, and that we can speak directly to Him (the One in charge), we can lessen the grip we have on worry.
Remember, you're better off letting God take care of it! Build your FAITH until it's bigger than your WORRY!
Be consistent with your Bible reading (Romans 10:17 kjv) and prayer life (Philippians 4:6 kjv).  It's the key to winning over worry.
Job faced HUGE trials… he certainly had a good reason to worry, but he took the focus off himself.  When he prayed for his friends, things begin to change.
And the LORD turned the captivity of Job, when he prayed for his friends: also the LORD gave Job twice as much as he had before. Job 42:10 kjv
Every time you catch yourself worrying, STOP and pray.  Make this a habit!
Sidenote:  You'll be thankful to know that in my KJV Bible, there's not one single word of "worry" – so it's not Biblical!  **wink**
Complete Today's Challenge: 
Please spend at least 15 minutes today reading God's Word.  If you have time, write at least ONE Bible verse in your journal.  (*There's 10 Bible Verses below — you can choose one of those to write in your journal, if you wish.)
 
10 Bible Verses to Read to Help Win Over Worry:
Proverbs 12:25 (KJV) Heaviness in the heart of man maketh it stoop: but a good word maketh it glad.
Isaiah 41:10 (KJV) Fear thou not; for I am with thee: be not dismayed; for I am thy God: I will strengthen thee; yea, I will help thee; yea, I will uphold thee with the right hand of my righteousness.
Matthew 6:25 (KJV) Therefore I say unto you, Take no thought for your life, what ye shall eat, or what ye shall drink; nor yet for your body, what ye shall put on. Is not the life more than meat, and the body than raiment?
Matthew 6:34 (KJV) Take therefore no thought for the morrow: for the morrow shall take thought for the things of itself. Sufficient unto the day is the evil thereof.
Luke 12:22 (KJV) And he said unto his disciples, Therefore I say unto you, Take no thought for your life, what ye shall eat; neither for the body, what ye shall put on.
John 14:1 (KJV) Let not your heart be troubled: ye believe in God, believe also in me
John 14:27 (KJV) Peace I leave with you, my peace I give unto you: not as the world giveth, give I unto you. Let not your heart be troubled, neither let it be afraid..
Philippians 4:6 (KJV) Be careful for nothing; but in every thing by prayer and supplication with thanksgiving let your requests be made known unto God.
Philippians 4:7 (KJV) And the peace of God, which passeth all understanding, shall keep your hearts and minds through Christ Jesus.
1 Peter 5:7 (KJV) Casting all your care upon him; for he careth for you.