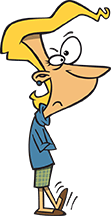 I'll be honest.  Sometimes it seems like my prayers are just hitting the ceiling.  But, those thoughts are certainly not from the Lord.
These thoughts stem from:
– The lack of faith
Dig into God's Word more.  Reading and hearing God's Word increases your faith.
"So then faith cometh by hearing, and hearing by the word of God." (Romans 10:17)
Choose Bible verses on faith and memorize God's Word to instill these in your heart.
–

The lack of patience
We want our prayers answered "N-O-W" — so God must not be listening.
REMEMBER >>God's timing couldn't be more perfect!
God sees the whole picture.  It's a good thing we're not putting the huge puzzle together all by ourselves because it would certainly be flawed — and a few pieces missing when we were finished.
God works everything out for good and for His purpose.
"And we know that all things work together for good to them that love God, to them who are the called according to his purpose." (Romans 8:28)
– Sin in our life
Christians these days don't like to discuss the topic of "sin".   But, the truth is sin is like filthy rags to our Lord and robs us of many blessings that could have been ours!
"But we are all as an unclean thing, and all our righteousnesses are as filthy rags; and we all do fade as a leaf; and our iniquities, like the wind, have taken us away." (Isaiah 64:6)
Have you ever smiled pleasantly at your dirty cleaning rags after cleaning the filth, the mold and scum from a dirty bathroom?
NO! Of course not. If you're like me, you cringe in disgust!  I extend my arm out as far from my face as possible as I deposit the filthy rag into a laundry bin.
Sin is sin, no matter how small it is.  Don't expect God to smile at it and continue to bless and answer your prayers.
Yes, He is certainly merciful and forgiving, but we shouldn't shrug our shoulders at sin and continue to walk in the muck and mire of it.
The good news…
We CAN have confidence in God's mercies toward us and that He will hear our prayers.
I John 5:14,15 says…
"And this is the confidence that we have in him, that, if we ask any thing according to his will, he heareth us:
And if we know that he hear us, whatsoever we ask, we know that we have the petitions that we desired of him."
Don't Quit! Just keep praying!  Pray according to God's will.
YOUR prayer makes a difference.
I challenge you this week to start your day in prayer.  Pray throughout the day. Pray while washing dishes. Pray while folding laundry.  Pray while traveling.  Just pray.
Keep walking in faith!
Rhonda White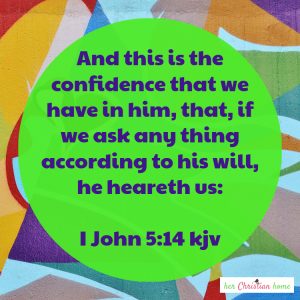 Featured product pick: