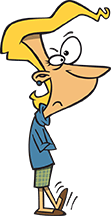 I'll be honest.  Sometimes it seems like my prayers are just hitting the ceiling.  But, those thoughts are certainly not from the Lord.
These thoughts stem from:
– The lack of faith
==>  Dig into God's Word more.  Reading and hearing God's Word increases your faith. (Romans 10:17)  Pick verses on faith and memorize His Word to instill these in your heart.
– The lack of patience (We want our prayers answered "N-O-W" — so God must not be listening.)
==>  God's timing couldn't be more perfect! He sees the whole picture.  It's a good thing we're not putting the huge puzzle together by ourselves because it would certainly be flawed — and missing a few pieces when we were finished. (Romans 8:28)
– Sin in our life
==>  Christians these days don't like to discuss the topic of "sin".   But, the truth is sin is like filthy rags to our Lord (Isaiah 64:6) and robs us of many blessings that could have been ours!
Have you ever smiled pleasantly at your cleaning rags after cleaning the mold or scum from a dirty bathroom?  No! If you're like me, you cringe in disgust!
Sin is sin, no matter how small it is.  Don't expect God to smile at it and continue to bless and answer your prayers.  Yes, He is certainly merciful and forgiving, but we shouldn't shrug our shoulders at sin and continue to walk in the muck and mire of it.
Don't Quit! Just keep praying! 
Prayer makes a difference.
YOUR prayer makes a difference.
I challenge you this week to start your day in prayer.  Pray throughout the day. Pray while washing dishes. Pray while folding laundry.  Pray while traveling.  Just pray.
God bless your week ahead,
Rhonda White
_______________________________
Featured product pick:
Please help share my content: