(such as

making beautiful quilts

, like my blogger friend, Missy)
.
My kind of craft and sewing projects are ones that I can finish in under 30 minutes…. so continue reading if you're a little interested in quick sewing projects…. or if you'd like to lengthen a dress. 🙂
Last November, during the "black Friday" sales promotions, I bought myself a little sewing machine (my referral link) for my Christmas present.  I have discovered that I hate to follow tedious patterns. I also just wanted a simple little sewing machine with no frills or extra "bells n whistles," as they say.
You know what I discovered? That I love "free-stye" sewing so much better!  I like to re-purpose or up-cycle stuff.  It's fun and I feel thrifty doing it. lol  🙂
Today, I'm sharing how I lengthened and created an upcycled, "new to me" dress.  I've had this striped dress (pictured below) for a couple of years.  (I'm fascinated with stripes, by the way.  Do you love stripes as well?)  The problem with this dress is that it was too short for my liking.  So, I just wore it at home in the evenings to lounge around in for comfort.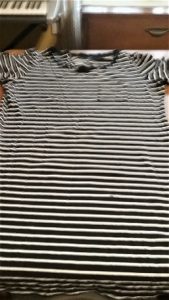 Here's how I cheated and lengthened this dress without a lot of hassle….
First, I cut it in two pieces (mid-rib area).  This way I would not have to re-hem the dress at the bottom — because that's not so fun to me.  I'd rather be doing other fun things than tedious stuff like that. 😉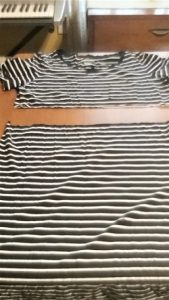 Next, I took an old, striped blouse which never fit the way I would have liked it to fit.  I cut off the top shoulder and neck area and the hem at the bottom so that I could use the middle piece for the mid-section area of my new, upcycled dress. (I also cut off the little tie-piece strip from the neck line.)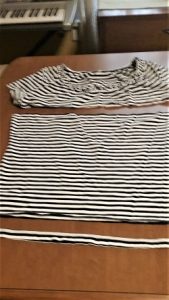 I carefully pinned the pieces that needed to be sewn together. (Both outside pieces facing each other inside.) First, I sewed the top section. Then, I sewed the bottom section.  Finally, I sewed on that tiny, little tie-piece to make the top part of the dress "appear" to have a "draw string" type insert.  I love draw strings….but didn't want to place a real one because that's too tedious for me as well. LOL 😉  So, hence, I created a "fake" drawstring.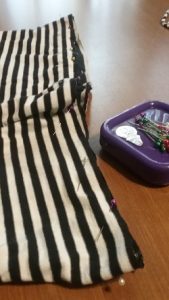 Here's my finished upcycled dress….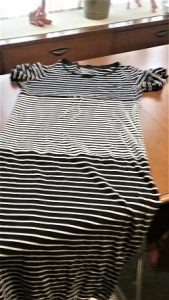 Here I am posing with my new upcycled dress in the lengthened style.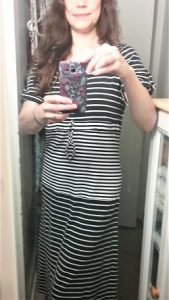 Did I run into some snags? 
Yes! I'm no skilled seamstress. I found that the mid-section needed to be shortened a little so that the bottom part would flow around my hips a little more  It looked awkward being too snug.  So be sure to try it on if you can before doing the final sewing on the bottom part.  You want to make sure that it fits efficiently around the hips.
Next, the lines went a little crooked where I placed the fake draw-string area.  I find that sewing "lines" or patterns together you need to be a little more cautious. (To my relief, I left perfectionism behind years ago…so going to wear it "as-is".)
My advice..
If you've ever wanted to sew, don't be afraid of just getting in there to have fun.  You can learn as you go… Watch a few YouTube videos about upcycling clothing, and you'll find that you don't have to do a lot of work from scratch.  In fact, I have found a few YouTubers who create all kinds of pretty clothing pieces from oversized, used clothing. (Material can be expensive, but oversized pieces from the thrift store can be a cheap option to find pretty material to re-purpose.)
Here's the sewing machine that I have and LOVE! You'll see that it has many good reviews.

It's super simple and easy to use…and lightweight so that I can easily get it out and put it away.

If you cringe at long DIY projects, then you've found the perfect blog. To be quite frank and open about it, I don't have the patience for long, drawn out crafts and other projects