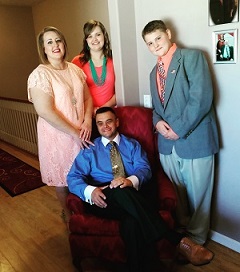 I went to the doctor for my sonogram. I was so excited to see if I was having a boy or a girl. The nurse came in and started the sonogram and then got up and left quickly. I reached over and grabbed my mom's hand…
Then, the door flew open and there stood two nurses. The second nurse took over doing the sonogram. I asked, "What is wrong?" They both got up and left the room again. I felt sick to my stomach and thought for sure my baby was dead.
In came the doctor with the two nurses. He kept looking and looking at the sonogram and wouldn't talk. Finally, he turned to me and said, "Your son, (I guess, that was his way of telling me that I was having a boy) has fluid on the brain and a hole in the heart."
I don't remember anything else from that visit that day. I took my little girl home with me and held her and cried. I didn't know anything about fluid on the brain or a hole in the heart at that time.
I was to come in every two weeks for a sonogram. Then, in my ninth month, I was to come every week. I started going every two weeks and I was able to see the black hole on my little guy's heart and the big bubble of fluid on his brain.
I went to my 7th or 8th month check-up. A new doctor came into the room this time. I asked where my doctor was. He said, "I need to talk to you! We are going to do a test on the baby today. We will stick a needle into the baby's brain and try to drain the fluid." "What if you miss and hurt or even kill my baby?" I asked.
The doctor said, "You will be reimbursed for the rest of your life." I said, "No!" He said, "You're going to have a down-syndrome baby, who will spend the rest of his life in a wheel chair. What kind of a life is that for your child? With all the problems he has, there is no way he will even live to be ten years old. You need to have an abortion and not let the baby suffer. "Once again I said, "No!" The doctor said a few things that were not very nice towards my baby and stormed out of the room!
My dad and my brother, who are both preachers, put out a prayer request to other preachers. It went all around the world. I got letters from missionaries and preachers saying they were praying for my son and the pregnancy.
The day I went into labor was very interesting. I was in IHOP with my parents when I went into labor. I was rushed to the hospital laughing. My dad was driving and was stressing out!! I was rushed to a room. The nurse put me in a big hot tub with jets (Amazing), while outside the door in the hallway was ten different doctors with machines and a bed to put the baby in that looked like a big microwave.
I gave birth to a ten pound baby boy. I went to hug on my baby, but the nurse took him from me and out the door. I yelled at my mom, "Don't leave his side!"
That night the doctor brought my baby back to me. "I'll be back in the morning with the results," he informed. I snuggled with my little guy all night while he laid there snoring.
The next morning, a new doctor came in and looked at me with a very sad look. He pulled a chair up beside the bed and put his head in his hands. I could only stare at him! He looked up and just stared at me. Finally, he spoke and said, "After all those tests we took yesterday, I have studied them and I don't understand. I keep looking at the sonograms from the last few months and all the tests we did yesterday. The hole in his heart has healed up and we see no fluid on the brain. I don't understand it!" I said, "I do!"
Today, my son is 14 and has been called to be a preacher. He preached his first message when he was 10 years old. God has a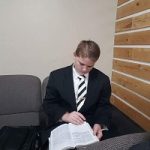 plan for my son. I didn't and don't know what God has in store for him for the future. But, I do know Satan didn't get the victory.
My son loves to preach and does it with such ease. Every year for his birthday, I thank the Lord for that year we had together. Sometimes we don't understand why things happen in our life. But, I do know God has a plan for my miracle baby.
"Trust in the LORD with all thine heart; and lean not unto thine own understanding. In all thy ways acknowledge him, and he shall direct thy paths." Proverbs 3:5,6 kjv
(Guest post by Donna Harvey)