*Updated 4/3/2019 – Originally posted June, 13, 2019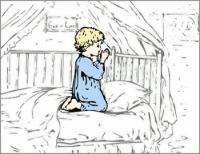 The most common frustration for tired, weary Christians in our hustle and bustle modern society is that, "I just don't have the time to pray!".
But can you imagine if I told my husband that I just don't have time to talk to him everyday? Or, can you imagine me telling my close friends that I just don't have time to communicate with them anymore?
Prayer plays a vital role in our relationship with our Heavenly Father. When we make excuses not to pray, we are telling God that He isn't really so important to us.
1 Thessalonians 5:17 says, "Pray without ceasing." 
It's such a short verse, and direct to the point. Prayers do not have to be long or eloquent in words, but we can certainly see that prayer should be very frequently…as a continual state or attitude of prayer.
Keep in mind that prayer is not just a time to ask God for something. More importantly, it's a time to praise and thank God for the things He has done in our lives. 
We should also pray for others who have needs.  We can pray constantly throughout our day.   A prayer can be something as quick and simple as, "Please help Mary as she takes that test this morning." "Thank you, God, for allowing me to miss that traffic accident on the highway," or a simple prayer while cleaning house,  "Thank you, Heavenly Father, for giving me strength to clean up that mess."
You don't have to speak out loud to pray. Remember God knows every thought in our minds.  Nothing is hidden from Him.  It's easy to say a quick prayer while getting ready for the day, before meals, while driving, or even at the grocery store.  Stuck in traffic?  Use your time to pray!
While the quick and simple prayers are great, you still need to make sure to spend some quiet, quality time with the Lord in your prayer closet. 
Many Christians devote some time for prayer first thing in the morning. I think this is the best choice. (We often do our top priorities first, and this is one of our top priorities — so you may need to rise a a few minutes earlier than normal if you have a super busy schedule ahead).
Another great time for quality prayer is before going to sleep at night.  Set aside a few minutes for prayer time and do nothing but pour your heart out to God.  Praise Him, thank Him, ask Him. This can also settle your heart for the night ahead to give you a more peaceful sleep.
"It is vain for you to rise up early, to sit up late, to eat the bread of sorrows: for so he giveth his beloved sleep." – Psalm 127:2 KJV
You'll want to choose quality times to bring out your prayer journal to remember others in prayer. It's easy to forget or overlook some special needs, so having a prayer list is very beneficial for our forgetful minds.
By continually praying, you will see your personal relationship with your Heavenly Father begin to grow. 
Prayer can help take worries away, reduce stress, and above all give you peace.  The Lord Jesus wants to help carry our burdens.
"Come unto me, all ye that labour and are heavy laden, and I will give you rest." – Matthew 11:28 KJV

Having a regular prayer life with the Lord will change your life. I want to challenge you this coming week to spend more time in prayer.
Please feel free to share your comments about your own prayer time or share about your own answered prayers.  Let's encourage each other!