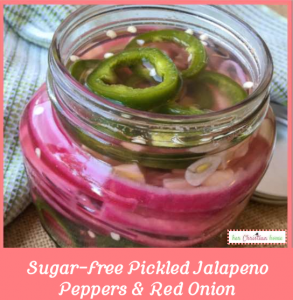 My history of love for pickled foods…
I believe my dad had a lot to do with my acquired taste for pickled foods.  When I was very young, he used to boil eggs and douse them with vinegar and salt. We'd put a smile on our faces as we consumed the tasty snack.  Canned tuna also took the torment of being doused with the same tart liquid. My dad is also known to sip the leftover dill pickle juice.  You might have guessed by now that I consumed quite a few dill pickles when I was young.
My mother did have an impact on me as well for pickled foods…  In the summertime, she often made delicious bowls of old-fashioned pickled cucumbers and onion.  Do you love pickled foods?
These quick-pickled jalapeno peppers and onions are delicious on top of your favorite Mexican or Tex Mex dishes. They can also be enjoyed on their own, or in wraps, salads, or anywhere you want a little extra spice. For a nice twist, try the pickling liquid in place of plain vinegar in homemade vinaigrettes and marinades.
Note:  This recipe doesn't have any added sugar, but it does call for 2 tablespoons of honey.  If you wish, you can replace this natural sweetener with stevia or another natural sweetener of your choice.
Featured Product: (my referral link)
Sugar-Free Pickled Jalapeno Peppers & Red Onion
Recipe Notes
Prep time: 10 minutes + 1 hour rest time
Cook time: n/a
Serves: n/a
Safety Tip: Wear gloves when handling jalapeno peppers to prevent burning. 
Ingredients:
¾ c. white vinegar
¾ water
2 T. kosher salt
2 T. honey, preferably local
3-4 cloves fresh garlic, minced
1 medium red onion, sliced thin
5-6 jalapeno peppers, sliced into rounds, seeds removed
Directions:
Combine vinegar, water, salt, honey, and minced garlic in a saucepan over medium heat. Whisk to combine and heat until honey is thoroughly dissolved. Remove from heat and set aside.
Place the sliced onion and peppers in a glass jar with a tight-fitting lid. Pour pickling solution over the contents of the jar to cover completely.
Let sit, uncovered, for at least one hour at room temperature.  Next, cover and store in the refrigerator for up to one week.
*Idea: Enjoy immediately on top of Chili or Tex Mex Chicken Tenders.