Key Verse: Hebrews 11:1 KJV
What is your greatest obstacle to faith? Often, it's what we can NOT SEE that sparks our fears.
Today, let's look back to a true story about a desperate widow woman, who felt that she and her son's days were very limited…
Have you ever thought how she felt? Alone. Hungry. Full of agony. (A mother's heart hurts greatly, bearing the pain of her own children's sufferings.)
As always, God had a plan.
The Lord God instructed Elijah, the prophet, to go dwell in Zarephath. He informed Elijah about a widow woman living there, who would sustain him. (I Kings 17:9)
Side note: This reminds me of that saying, "Where God guides, He will provide!"
When Elijah came to the gate of the city, sure enough, there was the widow woman, working away, gathering sticks. He approached her to ask for a small drink of water. (I Kings 17:10)
As this widow went to fetch some water, Elijah also requested some bread to eat. (I Kings 17:11)
Now, this is the point when the little widow woman instantly hesitated.
"And she said, As the LORD thy God liveth, I have not a cake, but an handful of meal in a barrel, and a little oil in a cruse: and, behold, I am gathering two sticks, that I may go in and dress it for me and my son, that we may eat it, and die." (I Kings 17:12)
The flour supply practically gone, not nearly enough to fill her belly, nor her son's, her initial graciousness to serve turned into sharing the distraught story of her circumstances with a stranger.
But Elijah urged her to have a little faith.
"And Elijah said unto her, Fear not; go and do as thou hast said: but make me thereof a little cake first, and bring it unto me, and after make for thee and for thy son."
"For thus saith the LORD God of Israel, The barrel of meal shall not waste, neither shall the cruse of oil fail, until the day that the LORD sendeth rain upon the earth." (I Kings 17: 13 and 14)
Side note: You and I are not prophets, but do we encourage others to move forward in faith?
This almost empty-handed widow took action and went to work making those "little cakes of faith."
Seeing her almost empty barrel of meal surely called for an extra measure of FAITH. Don't you agree?
Because she embraced faith instead of doubt, God was able to use what little she had to feed her household for MANY days until it rained again. (I Kings 17:15 and 16)
The barrel of meal and oil did NOT fail… because God NEVER fails!
Hebrews 11:1 says, "Now faith is the substance of things hoped for, the evidence of things not seen."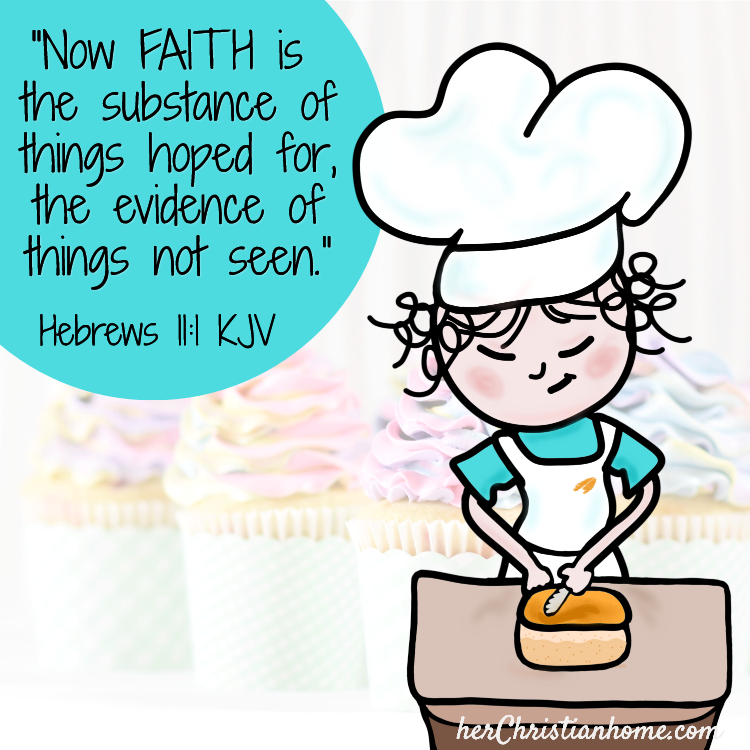 We can't SEE everything from God's perspective, but we can always TRUST that God will have our best interest at hand.
We can EXPECT our own barrels to not run empty when we make those "little cakes of faith."
Keep walking in faith,
by Rhonda White