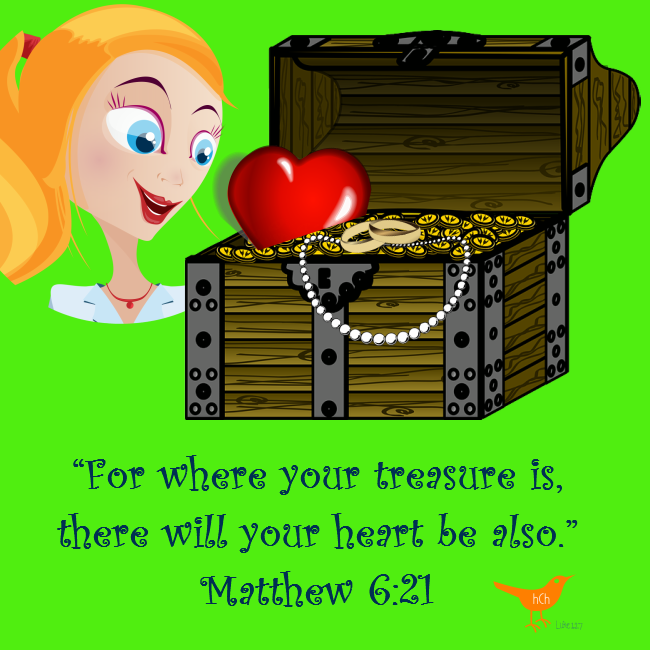 Matthew 6:19-21  Tells us what kind of treasures we should seek which are of true value…
19)  Lay not up for yourselves treasures upon earth, where moth and rust doth corrupt, and where thieves break through and steal:
20)  But lay up for yourselves treasures in heaven, where neither moth nor rust doth corrupt, and where thieves do not break through nor steal:
21)  For where your treasure is, there will your heart be also.
Have you ever won anything and felt like jumping up and down in pure excitement?
I once won an armful of pretty, shiny awards for good grades and other minor accomplishments.  These were presented to me during an awards banquet at the end of my 7th grade year in school.   I felt like I had been handed a pot of gold.  With enthusiasm, I told my mom that I was going to keep them all FOREVER!  In a gentle, loving way she let me know that some day they wouldn't matter so much.  I felt shocked that she would think such a thing.  And you know what?  She was absolutely right!  🙂
One day after moving to Kansas, I discovered these "treasures" tucked inside a box and tossed them away.  They no longer were of value to me…nor my best accomplishments, especially since God had given me three precious sons.   I treasure my sons so dearly — way MORE than those awards from school.
What about all those awards that I wanted to keep forever?  Simply put — my focus changed, when the direction of my heart changed.  Becoming a mother seems to supersede any achievements from my school years — although I would probably flunk at some skills now like teaching my boys geometry. tee hee!
My energy is now poured into three sons who have captivated my heart.  My treasures have changed because my heart has changed focus.  My love for them has also grown because I have poured my heart and energy into caring for them and doing things for them.
Often we look at the HERE and the NOW of our earthly treasures and assess their value of what we own.  Some may even get real technical,  sitting down with pen and paper to tally up their real "net worth." [Remember the math formula?  Assets – Liabilities = Net Worth.  tee hee!  A little math lesson tucked in here. 😉 ]

Yes, we get so excited when we get a new necklace or ring — and thrilled with a pretty, new dress.  After a couple of weeks the newness wears away.  We still enjoy these things, but the excitement fades away as time passes.
The fact is, one day all of our earthly treasures will pass away.  We cannot take them with us to Heaven.  They're only  a TEMPORARY thrill to enjoy.  Our Heavenly Father does like to see us enjoy these things…but they are not meant to be enjoyed FOREVER.
The RICHES that will last forever cannot be seen and held right now.
If you only set your heart on buying MORE new things or making MORE money to buy MORE stuff, then your focus will stay on material possessions.  When you get to Heaven what will you have?  What will I have?
The answer is simple.  Nothing.  If we've only focused on earthly things, then we have no treasures stored up in Heaven.  We'll enjoy Heaven, but have nothing to offer our loving Savior.
Do you need to change your main focus and redirect your heart?
Do you care if you earn Heavenly treasures?
Can you say with a clear conscience, "Lord Jesus, I DON'T CARE if I have nothing to give you for all you've done for me"?
Heavenly treasures are the only ones that will last.  No thief can steal them away.  Being a faithful Christian here on earth is an eternal investment.  Being a witness for Christ and sharing the gospel is an eternal investment.   What we give and pour our heart and energy into is where our greatest TREASURE lies.
Pour your energy and heart into serving our Savior!
For where your treasure is, there will your heart be also.  – Matthew 6:21
God bless you and your family,