<![CDATA[And my prayer goes like this ;) ...
"Oh Lord, I'm about to get out of bed today… the temptations are so great.  Help me not to eat more chocolate than I did yesterday."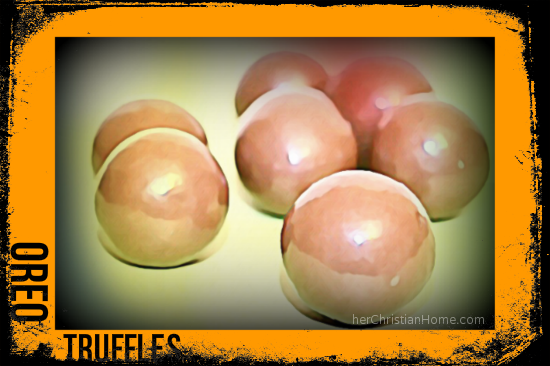 Oreo Truffles
1 package (8 oz.) Philadelphia Cream Cheese, softened 1 package Oreo Cookies, finely crushed 2 packages (8 squares each) Bakers Semi-Sweet Chocolate, melted Put the cream cheese and cookie crumbs in a large bowl and mix until combined. Line a baking sheet with parchment paper and set it aside. Melt the chocolate in a metal bowl set over a pot of simmering water, being sure the metal bowl does not touch the water. Take a heaping tablespoon of the dough and roll it into a ball. Place it onto the baking sheet. When all dough is rolled, place a wooden toothpick into each ball. Put the baking sheet into the refrigerator to firm the rolled balls, about 30 minutes. Dip the rolled balls into the melted chocolate and return them to the parchment paper. Remove the toothpicks. Refrigerate the dipped balls for 30 minutes to set. You may want to decorate the truffles by drizzling them with white chocolate.
Related articles on the web…
]]>
Please help share my content: