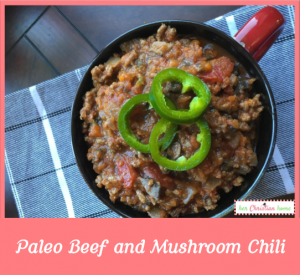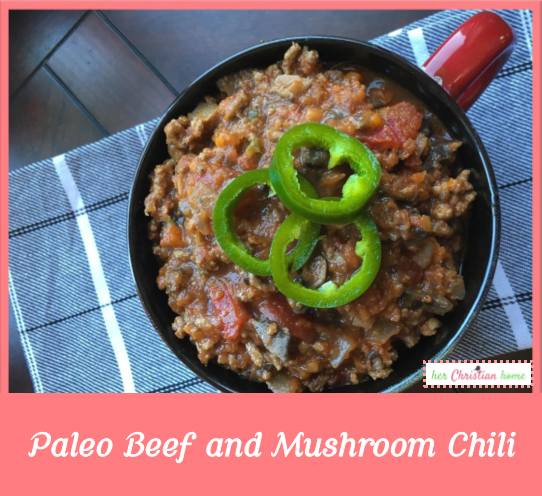 There's some people who truly HATE beans, and then there's some people who LOVE beans but their stomach just can handle them…and then there's others who like beans, but wish to avoid the carbs from the beans.  If any of the above is your circumstances, you're going to love this recipe…
You'll enjoy this chunky beef chili – No BEANS Recipe –  thanks to a flavor-packed and satisfying combination of fresh vegetables and Portobello mushrooms. To top it off, a nice blend of herbs and spices pulls it all together into a delicious and filling meal. 
Featured Product: (my referral link)
SAVE MONEY – Stop buying plastic wrap!
---
Paleo Beef and Mushroom Chili
Recipe Notes
Prep time: 10 minutes
Cook time: 30 minutes
Serves: 6
Ingredients:
2 T. extra virgin olive oil
1 medium yellow onion, diced
2 large carrots, diced
2 medium celery stalks, diced
2 medium red bell peppers, diced
1 lb. Portobello mushrooms, chopped
1 medium jalapeno pepper, minced
1½ lbs. ground beef
2-3 garlic cloves, minced
Sea salt and black pepper, to taste
2 t. dried oregano
1 T. ground cumin
2 t. chili powder
1 t. cayenne pepper
2 T. tomato paste
1 24-oz. can crushed tomatoes, undrained
1 c. beef (or chicken) broth, preferably organic
Optional toppings:
Pickled jalapeno peppers and red onion
Avocado
Fresh cilantro leaves, chopped
Method
Heat the olive oil in a large soup pot over medium-high heat. Add in the onion, carrots, celery, bell peppers, mushrooms, and jalapeno pepper and cook, stirring occasionally, until the vegetables are soft and fragrant, approximately 5-7 minutes.
Add in the ground beef and garlic and generously season with salt and black pepper, to taste. Cook, breaking up the meat with a wooden spoon, until the beef is browned, around 5-6 minutes.
Add the oregano, cumin, chili powder, cayenne pepper, and tomato paste. Stir everything together and cook for another minute or two, or until the spices become fragrant.
Add the crushed tomatoes and the broth and bring to a boil. Once boiling, reduce heat to medium and simmer for 15-20 minutes, stirring occasionally.
Remove from heat and adjust seasonings, if necessary. Top with pickled jalapeno pepper and red onion or diced avocado and cilantro, if desired, and serve immediately. Enjoy!