If you don't yet like cauliflower, give it one more try!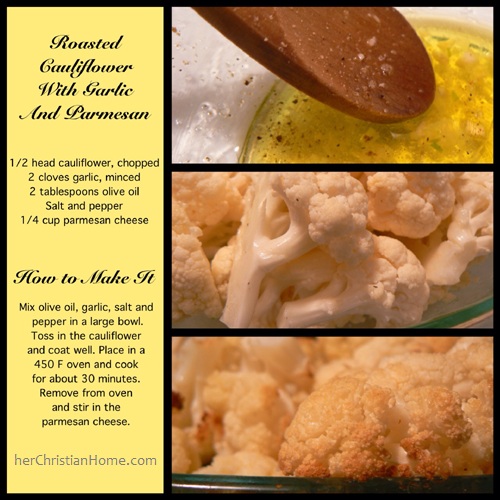 I love this super easy recipe, and truthfully feel like I'm indulging in a food that should otherwise be off limits for those who are watching their weight. Whenever I'm craving french fries…this is sure to satisfy.  Some people have even dipped their roasted cauliflower in ketchup….But, I'm not about to smother mine in ketchup….I love it just the way it is!
How to make garlic roasted cauliflower (Video)
Amazon Tidbits…
Food Topics by Other Christian Bloggers….

The Family Meal: Sweet Garlic Chicken and Potatoes
Other resources from on the web…
Healthy Comfort: Low-Cal Cheddar-Cauliflower Soup
FitSugar.com, on Sun, 27 Jan 2013 14:06:09 -0800 Cheddar soups are known for being creamy and rich but also come with a lot of calories and saturated fat. For a lighter twist on this favorite, try our simple-to-make cheddar-
cauliflower
soup. It's easy to throw together on a weeknight, and even better
…
Best ever mac and cheese (made by 7-9 year olds)
National Post, on Sat, 26 Jan 2013 15:40:04 -0800 My "Cooking Basics" club made Jamie Oliver's Macaroni (
Cauliflower
) Cheese Bake this week. These boys are 7-9 years old and they worked in teams of 2-3 to create this healthy, tasty meal in under an hour! Each team was responsible for 1 or 2
…
]]>

<![CDATA[