God answers many prayers "at the last moment," but He's ALWAYS right on time!
In our modern day with all the technology, we are very anxious to have things at our disposal "NOW." And we want our prayers answered FAST, in the same way we make and serve "instant" mashed potatoes. (I actually liked that stuff when I was young. lol)
When circumstances bring us to our knees in prayer…
We're impatient.  We're frustrated. We're doubtful. We're fearful. Sometimes we're angry.
We simply do not see the whole picture the way our Heavenly Father is able to see through our circumstances. Some day when we get to Heaven, we will finally give praise to the Lord God for all that He truly deserves. We'll finally understand how much He loves you and I — and that He has our best interest at hand. (Jeremiah 29:11)
God spared Isaac and provided a substitute sacrifice for Abraham "at the last moment."  Was God late?  No! God's purpose was fulfilled in testing Abraham's faith and that he truly feared God.  God sometimes answers prayers "at the last moment" but God is ALWAYS on time!

God divided the Red Sea for the Israelite people "at the last moment" — AND they walked across on dry land! God didn't have to divide the sea many days ahead to cause the mud on the bottom of the sea to dry. God is able to do anything at a moment's notice!

Jesus saved Peter "at the last moment" before he had sunk under the sea.  It was Peter's fear and doubts that caused him to take his eyes off of Jesus. When he took his eyes off of Jesus, he began to dwell on the stormy waves around him. Those scary waves are the same ones that sink us, too, when we focus on them instead of Jesus!

Was God late when Lazarus died?
No! God still had a purpose that we humans here on earth didn't understand at the time.  Jesus said in John 11:15 "And I am glad for your sakes that I was not there, to the intent ye may believe; nevertheless let us go unto him."  Despite the grieving of Mary, Lazarus' sister, God's purpose and plan was fulfilled at exactly the right time — and Jesus raised him from the dead!
Here's THREE Important Things to Do While You're Praying:

ABIDE in (stay attached to) our Heavenly Father. STAY in God's WORD. I know God's WORD is the ANSWER to ALL our problems. Keep doing what you know is right… attend church, be faithful to pray and read your Bible.
If ye abide in me, and my words abide in you, ye shall ask what ye will, and it shall be done unto you. – John 15:7 kjv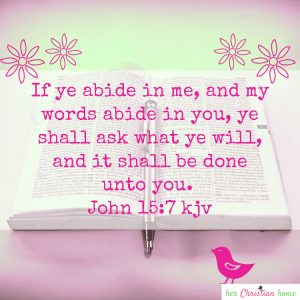 We also need to REJOICE (in the Lord) to set the right attitude and spirit during our trials and situations.  We can rejoice that God is still on His throne and is in charge of the situation.  We can rejoice (and trust) that He ALWAYS knows best. We can rejoice that God always has our BEST interest at hand.
Rejoice in the Lord alway: and again I say, Rejoice. – Philippians 4:4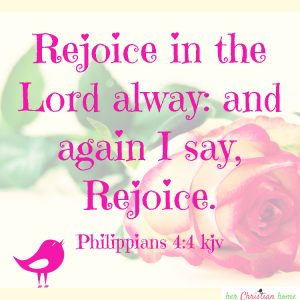 We need to WAIT. The hardest thing to do is wait, it seems.  It can be difficult, but let God work out the trials and situations that you're facing at the exact moment that He determines is best for you. The battle is the Lord's so hand it over to Him to take control.  To have the PEACE we need, we must let Him fight the battle!
Wait on the LORD: be of good courage, and He shall strengthen thine heart: wait, I say, on the Lord. – Psalms 27:14 kjv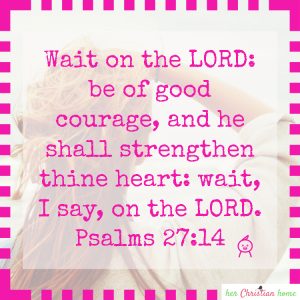 God bless you and your family,
Rhonda White