for years
.  Couldn't bring myself to get rid of it because it's just too cute, too unique to be donated or sold for pennies.
So, for a sort of "rustic decoration" attempt in our basement area that mainly has a computer, a couple of couches and a recliner for relaxing in what I call "the man cave" for the four men in my life (that's my hubby and 3 sons)… I created this 3-D picture.
Yup! I Framed my Duck!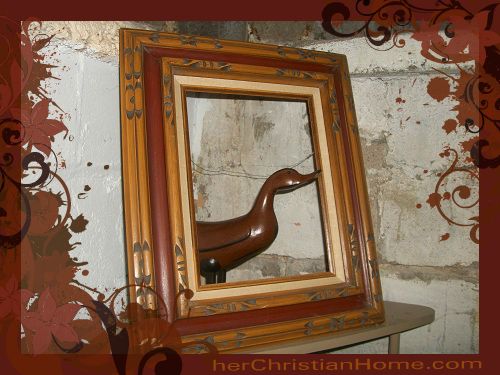 This is sitting on top of a computer desk…and I "think" it looks more cute in person that it does in this picture.  But, of course, I may be be fooling myself…. I've seen older photos of myself…and wonder "what was I thinking when I wore that?" So I do have to question my own judgment at times.
*Disclaimer: My Amazon referral links have been used in this post.
==>> Snatch some "Rustic Wooden Frames"
and "Wooden Figurines"
and come up with your own fun creations!
Who else uses picture frame as art? I found these resources online…
Okay….Your turn!!  Share a link to a picture of your photo frame art work or simply share in the comments section below your own creative ways that you use picture frames…

I've had this old wooden picture frame sitting around…