Brain Food For Your Child: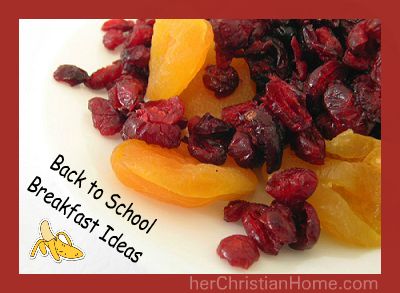 Often breakfast is a pop-tart eaten on the way out the door, and lunch is whatever the school is serving that day. But, the truth is that children need to have proper nutrition for optimal brain power.
If we expect them to do their best in school, then it's our responsibility to give them what they need to live up to our expectations. Think of it as providing the right tools for the job.
Here's a few key sources to achieve that goal…
Glucose
The number one necessity for the brain is glucose which comes from starches, carbohydrates, and sugar. The brain can't store glucose so it must be replenished during the day. At least send your child off with a snack bag containing raw carrots, walnuts, rice cakes, dried fruit or a whole grain bar.
Fiber
Fiber works hand in hand with glucose. Its job is to regulate when sugar is released into the bloodstream. Kids can start their day with a bowl of whole grain cereal with blueberries or whole grain bread spread with cream cheese. Send the kiddies off to school with a little package of sunflower or other seeds to serve as an afternoon snack.
Amino Acids
These are considered building blocks of the brain and are produced when the body breaks down carbs or protein. But there is a difference and understand it will help you provide what your child needs. Carbohydrates become a type of amino acid called tryptophan which produces a calming effect. These might help the child with ADHD, a teen worried about an upcoming test or a bedtime snack for the child who has difficulty sleeping. Complete proteins, on the other hand, break down into tyrosine, which energizes! For the sluggish child, provide a breakfast of meat, eggs, cheese or yogurt.
Essential Fatty Acids
Fatty acids omega 3 and 6 are essential in building brain cells and can spike intelligence. In fact, science indicates that deprivation of these can lead to brain disorders so try to work some of these into your child's menu. Make them a salmon or tuna fish sandwich or maybe some shellfish with lemon and garlic dipping sauce. Any leafy vegetable with cherry tomatoes and boiled eggs topped with flax seed oil and a sprinkle seeds.
Antioxidants
Your child's brain cells need protection from free radicals and antioxidants will do the job. Find these in berries, broccoli, squash, peppers, tomatoes, red and pinto beans. Hide tarragon, turmeric, cloves, saffron or cinnamon in other foods. Other sources are dark chocolate and tea, and for Mom and Dad, strong coffee and wine.
Help your child to develop a strong, healthy brain and you will give them the possibility of achieving anything. That's good parenting!
How to ensure you have time to eat breakfast: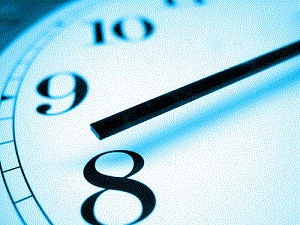 * Think about what time you have to be out of the house. Set your alarm clock early enough that you will be able to get up, get ready and still have time to eat.
* Prepare as much of your morning meal the night before as possible. If you are too rushed for time you can always grab a piece of fruit and an ounce of cheese. A peanut butter and jelly sandwich on whole wheat bread would also do in a pinch. Your body needs both carbohydrates and protein
* If you don't have time to eat breakfast, you can also keep single-serve granola, trail mix or an energy bar in your desk, backpack or briefcase.
* Perhaps you're not hungry first thing in the morning. Try eating dinner earlier in the day so you will be hungry when morning comes.
* When you don't like breakfast foods, there isn't anything requiring you to eat them. Eat a sandwich or leftovers from the previous night.
Breakfast-on-the-Go Ideas:
* Mix up a healthy trail mix of your family's favorite ingredients. You can use a variety of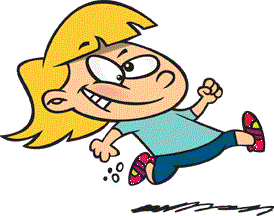 nuts, raisins or other dried fruit, carob or chocolate chips, dried coconut and seeds such as pumpkin or sunflower. Place the mixture in individual serving bags and have them ready to grab and go when needed.
* Always keep fresh fruit around the house and near the door you exit each day. Bananas, apples and oranges are the usual types of fruits you may think of. However, if your family doesn't like these fruits, you can always slice melons or other in-season fruits and have them available in the refrigerator.
* Create breakfast biscuits the night before or on one of the days you have extra time. You can purchase frozen biscuits for a couple of dollars at most stores. Scramble some eggs and place on the prepared biscuits. Add a slice of cheese and whatever your family's favorite breakfast meat is. There you have it! A complete breakfast ready to eat on the run.
* Make breakfast burritos using flour tortilla shells. These can be made ahead of time and frozen or you can make them a day or two ahead of time and keep them refrigerated. Scrambled eggs with turkey sausage is what one fast food restaurant makes so why can't you follow their lead? Use items you know your family will enjoy. Add salsa to give it some extra zip. Take them out of the refrigerator, pop them in the microwave to warm them up and you're good to go!
* Hard boiled eggs are a good alternative if you want something that is easy to take with you. Pre-cook and peel them so all you have to do is take one out of the fridge and head out the door.
* Pre-cook or prepare as many food items as you can. Celery sticks with peanut butter, single size servings of cottage cheese or yogurt, turkey bacon slices, sausage patties are all things which can be prepared and kept in the refrigerator for a couple of days.
Breakfast Drink Ideas:
When you need something extra quick, breakfast drinks are a great option, especially if you prepare in advance. Not only are they delicious but they are also nutritious.
Is there a benefit to preparing a smoothie over drinking an instant breakfast shake you can purchase at the store? The biggest benefit to making a smoothie from fresh or frozen ingredients is that you know what is in your smoothie. Some of the store-bought don't have all-natural ingredients. They may even have synthetic ingredients or nutrients.
Some tips to preparing the night before to make fruit smoothies…
* Be sure to start with a clean blender.
* Cut up your fruit the night before (or buy bags of chopped frozen fruit).
* Freeze some fruit to avoid having to use ice cubes.
* Include green, leafy or other vegetables for added nutrients.
* Measure out the liquid you will use and place it in a specific container in the refrigerator.
The more you can prepare the night before, the quicker it will be to make your smoothie when you need it.
**Alternatives to  cow's milk in smoothies:
– rice milk
– coconut milk
– almond milk (my preference)
– kefir whey
– fruit juice (also my preference)
– vegetable juice
THREE Quick Breakfast Smoothies:
Orange Julius
– Juice of three oranges,
– 1 egg
– 1/4 cup sugar (I prefer to use natural sweeteners, such as honey or real maple syrup)
– 1 tsp. vanilla
– 6 ice cubes
Combine the ingredients at high speed in a blender until the mixture is frothy. Drink it immediately
Protein-Packed Milk Shake
– 1 1/4 cup milk (**See above for alternatives to cow's milk)
– 1/2 cup uncooked oatmeal
– 1 large ripe banana
– 2 TB. of peanut butter
– 1 tsp. honey
– 1/4 tsp. vanilla
– 3 ice cubes
Put all ingredients in the blender except for the ice cubes. Cover and then blend for one minute on medium. Add the ice cubes, cover and then blend for another minute on high.
Orange Carrot Smoothie
Double or triple the recipe and freeze the extra in air tight containers for days when you're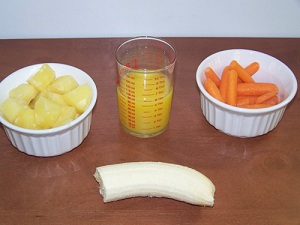 running late. Simply toss frozen serving in the blender for a few seconds to have an instant healthy drink.
– 3/4 cup canned pineapple chunks
– 1/2 cup ice
– 1/3 cup fresh orange juice
– 1/4 cup chopped carrot
– 1/2 banana
Blend together all ingredients until smooth. Pour into a chilled drink glass.
Alternatives Breakfast Ideas for Picky Eaters:
Some people simply do not like breakfast foods. You may have to become adventurous and find alternatives for picky eaters.
* Make a loaf or two of banana bread. There aren't very many people who will turn down a slice or two of banana bread. Add your favorite nut to give your loaves more nutritional value.
* Green smoothies may not look very appealing but they can be delicious. Some ingredients you can put in a green smoothie are pineapple, banana, apples, oranges, dates, pitted cherries, strawberries, almonds, baby spinach or kale. The ingredients you choose are entirely up to you.
* Peanut butter and jelly sandwich. Most picky children will eat a peanut butter and jelly sandwich whenever they are offered food. While a PB&J might not be your choice for a healthy breakfast, it also doesn't have to be so bad. Offer a whole wheat rather than white bread. Try to find a peanut butter brand without high fructose corn syrup or choose almond or cashew butter. Use fruit-only jelly instead of the high-sugar varieties.
* Consider making an omelet rather than scrambled eggs. Add sautéed vegetables (onions, green pepper and mushrooms) along with plenty of your child's favorite cheese.
* Bagels are something a lot of families don't eat. If you haven't tried bagels for breakfast, you're in for a treat. Purchase a tub of whipped cream cheese and add your child's favorite fruit to make it more appealing to your child. You can also use peanut butter and jelly, a variety of salads or anything else your child will eat.
* Cheese and fruit is also a good option for picky eaters. Chances are they like at least one type of cheese which will provide a good source of protein. Cut up apples and put them on a plate. Offer them fresh strawberries or grapes. It might not be a traditional breakfast but it will at least get them eating.
* Offer your picky child a variety of foods. Nuts, avocado slices, apples, cheese, hard boiled eggs or cereal they like to snack on. Think about things they DO like to eat and let your child eat that for breakfast to ensure they eat something.
One more recipe to share with you ladies….for those that prefer a hearty breakfast!
Wake Me Up Tacos
Ingredients:
6 ounces of breakfast sausage (turkey sausage or beef can be used)
1 can refried beans
1 tablespoon butter or margerine
8 eggs, beaten
12 taco shells (crunchy or soft whichever you prefer)
2 cups shredded cheddar cheese
2 cups diced tomatoes
2 cups green pepper
2 cups favorite salsa
Instructions:  Brown sausage in skillet, drain as usual. Mix sausage and refried beans together in a large bowl. Melt butter in skillet, add eggs and scramble as you usually would. Fill taco shells by layering meat/bean mix, scrambled egg, cheese, tomato, pepper and salsa.

For more breakfast ideas, read an older post of mine, "Quick and Easy Breakfast Ideas for Kids"