What's in the Back of Your Fridge?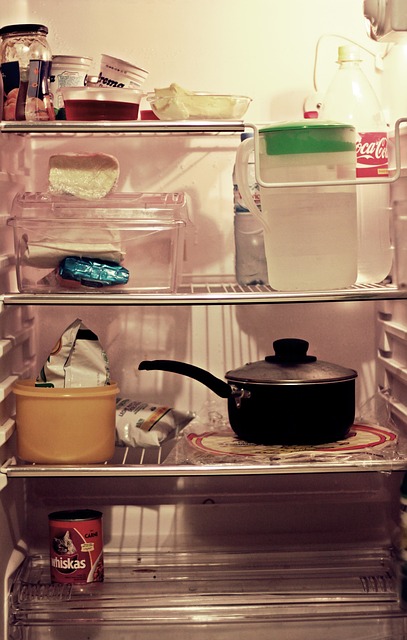 If you're clueless about what's lurking in the back of your refrigerator, it's time to clean it out!  I realize that most people dread cleaning out the refrigerator.  (
I think they're even a little frightened by what they might find
in there.
) One of the best reasons to keep your refrigerator cleaned is to help you stay organized…  better yet, it
saves you money
by allowing you to adequately use up your leftovers and keep you from buying an extra bottle of ketchup when you realized that you already had two in the fridge. The
best day to clean out the refrigerator
is when you're planning to do your major grocery shopping.  (Thursday is my usual grocery shopping day.  So on Thursday morning, I'll clean out the fridge a bit…tossing out anything that may have gotten moldy, etc. I quickly wipe a few shelves that have food drops or crumbs, and tidy up a bit.) For thrifty-minded moms, this helps you
double check on what extra items need to be added to your list
.  You may also plan on using some items in your freezer area for that coming week.  It truly is a great time to do some cleanup because it's so easy to forget what you have on hand. Over the years, I have find that
weekly maintenance plan
also works wonders and eliminates most of the dreadful tasks of scrubbing 100 day old spills, etc.  If you haven't cleaned your refrigerator for quite awhile, plan to do a thorough job as soon as possible.  Once you've done a thorough cleaning, you should make plans for a weekly upkeep.
How to do a weekly maintenance of your fridge:
Divide your refrigerator into four equal parts.  The freezer area should be considered as one part; the refrigerator area should be divided into the other three parts.  Each week do a through cleanup (washing the shelves) in
one
of the areas.  Then, simply tidy up the other three areas very quickly.  
Every four weeks your refrigerator will have one whole thorough cleaning
.  You'll also find that by continual maintenance, you won't have much scrubbing to do at all, especially if you
learn to wipe spills while they're still fresh
.
As always, please feel free to share your tips with all our women readers!
Here's a short video on how to clean a refrigerator:
]]>

<![CDATA[