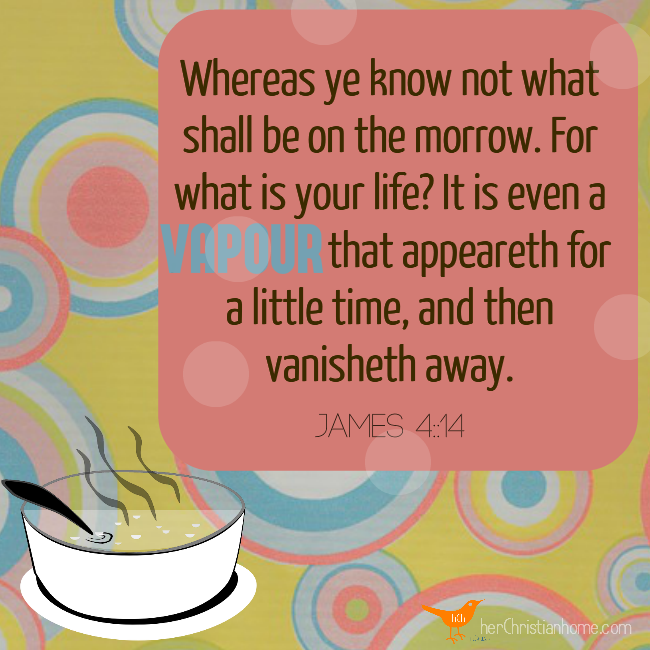 Life. is. short. (Do you realize it's quickly vanishing?)
Each DAY is a gift. (Do you really see the value?)
Make the most of your time. (Who and what is your priority?)
Make each moment, each minute, each second count. (How many have you wasted?)
Don't let the fuss and hurry of the life let you miss out.  (Did another notification from Facebook or a new text message sidetrack you?)
Choose the will of God for your life. (Do you believe Satan's lies that the world is having more fun?)
Make time each day for our Heavenly Father. (Was laundry more important?)
Two choices are yours today… the Lord Jesus or the world. (Do you understand that you can't wholeheartedly embrace both?)
Yesterday is gone… (For what is your life today?)
You'll never do better than the will of God for your life.
God reminds us about the importance of our life… Our time is limited and quickly vanishing away…
"Whereas ye know not what shall be on the morrow. For what is your life? It is even a vapour, that appeareth for a little time, and then vanisheth away."  James 4:14
*Most important question today:  Is your name written in the Book of Life?  Visit YourFreeGift.org to be assured of your place in Heaven today!
————————————————
Thought I'd also share a little poem with you today…
When Life's Short Day is Done
When life's short day is done at last
And heaven's gates open wide,
Pain and sorrow will then be past,
And I'll cast my cares aside.
I'll walk upon the streets of gold
And breathe pure celestial air;
What beautiful sights I'll behold
With the saints and angels there.
Jesus will be waiting for me
With all of His glory shown;
I'll live with Him eternally
In pleasures I've never known!
—Perry Boardman
*Source credit: http://www.spurgeongems.org/ipoems.htm#When%20Life%27s%20Short%20Day%20Is%20Done
***Free Resource:
Valid Through: December 15, 2015
————————————————
God bless your weekend ahead,