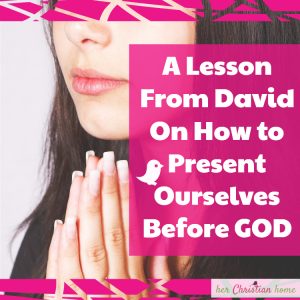 Psalm 40
has been a real blessing to me this week.  As I discussed this chapter with my sons, I explained how David set a good example for us on how to present ourselves in prayer to the Lord.
To keep my devotional short, I will not be discussing every verse, but there are a few Bible verses from this chapter that I specifically wanted to share with you…
1.
David Dedicates Praise to God
We should come before God's presence with thanksgiving and praise (Psalm 100:4). In Psalm 40, we see that David dedicates some of his psalm to expressing his praise to God.
"Many, O LORD my God, are thy wonderful works which thou hast done, and thy thoughts which are to us-ward: they cannot be reckoned up in order unto thee: if I would declare and speak of them, they are more than can be numbered." – Psalm 40:5 kjv
A simple way to start our own prayer is by thanking and praising God for all that He's done in our lives and in the lives of our loved ones.  This also sets the right attitude in our heart as we begin to pray.
>> Convicting Questions???
Do you and I get overly focused on our dilemmas and trials that we forget to praise God? Do we forget the wonderful works that God has done in the past because we can only see the chaos in our present?
2.
David Delights in Doing God's Will
"I delight to do thy will, O my God: yea, thy law is within my heart."  – Psalm 40:8 kjv
Don't you delight in pleasing those you love? We know that David truly loved God because he delighted in pleasing God by seeking to do His will.  He loved God so much that he even put His law in his heart. David took time to memorize the words of God.
>> Convicting Questions???
Do you and I delight in doing God's will, or do we often choose to do our "own" will?  Do we love God's Word enough to read it daily and put it in our hearts?  How can we expect God to bless and answer our prayers if we're not doing His will?
3. David Declares God's Righteousness and Salvation to Others
David doesn't hide the fact that he's a follower of God…
Excerpts from Psalm 40:9 and Psalm 40:10 show us some insight to David's openness about sharing God's righteousness, faithfulness, lovingkindness and salvation with others.
"I have preached righteousness in the great congregation"
"I have not refrained my lips"
"I have not hid thy righteousness"
"I have declared thy faithfulness and thy salvation"
"I have not concealed thy lovingkindness and thy truth"
>> Convicting Questions???
David says, "Be pleased, O LORD, to deliver me: O LORD, make haste to help me."  (Psalm 40:13)
When you and I have an urgent prayer request to present before our Heavenly Father, are we able to remind God that we've been faithful to share His salvation with others?  Have we been faithful in declaring God's goodness as a testimony to others?
4. David's Demeanor is Deflated
While researching for clarification on Psalm 40:12, there was certainly a difference of opinions over the meaning of David's statement, "mine iniquities have taken hold upon me, so that I am not able to look up;"  
As for sharing my own personal thoughts, perhaps David felt deflated and humbled. David has been surrounded by so many calamities.  And we can't help but feel that perhaps the sin in our life adds to our conflicts. When I feel ashamed, I don't easily look up.  My head is lowered.
Before presenting our requests to our Heavenly Father, we should indeed humble ourselves before God. We need to "clear the air."  In other words, we need to make sure we've restored fellowship with God by asking His forgiveness for any sin in our life.
>> Convicting Questions???
Do you and I let sin build up in our life without daily cleaning?  Do we forget to humble ourselves before God and admit our sin? Do we neglect the necessary maintenance of a good relationship with our Heavenly Father?
5. David Diligently Waits
God always answers our prayers, but we should be more concerned about wanting His will instead of our own.  Sometimes God says, "yes" and sometimes He says, "no."   But, what we often forget is that sometimes He says, "wait awhile." 
God's timing is always perfect.  To get the goodness of God's perfect timing we have to learn to WAIT.  We see that David has learned this in Psalm 40…
"I waited patiently for the LORD; and he inclined unto me, and heard my cry."  – Psalm 40:1
>> Convicting Questions???
Do you and I lack patience with God because we're in a big hurry for our problems to be fixed immediately? Do we think that God needs our help? Do we step in and try to fix situations on our own like Sarah did when waiting for God to give her a child?
6. David Doesn't Forget
We must not let pride get in our way. David doesn't FORGET that he's just a poor, needy person. (Without God we are nothing.) He REMEMBERS that God is his HELP and his DELIVERER.
"But I am poor and needy; yet the Lord thinketh upon me: thou art my help and my deliverer; make no tarrying, O my God."  – Psalm 40:17 kjv
David also REMEMBERS that God is a merciful God.  In any situation, we can ask for God's mercy!  Amen!?!
"Withhold not thou thy tender mercies from me, O LORD: let thy lovingkindness and thy truth continually preserve me." – Psalm 40:11 kjv
>> Convicting Questions???
Do you and I depend on our own strength to work through problems? Do we forget to ask for God's help with even the small issues that arise? Do we forget to seek God's mercies with each dilemma?
Isn't Psalms a wonderful book of the Bible to study?
God bless you and your family,
Rhonda White