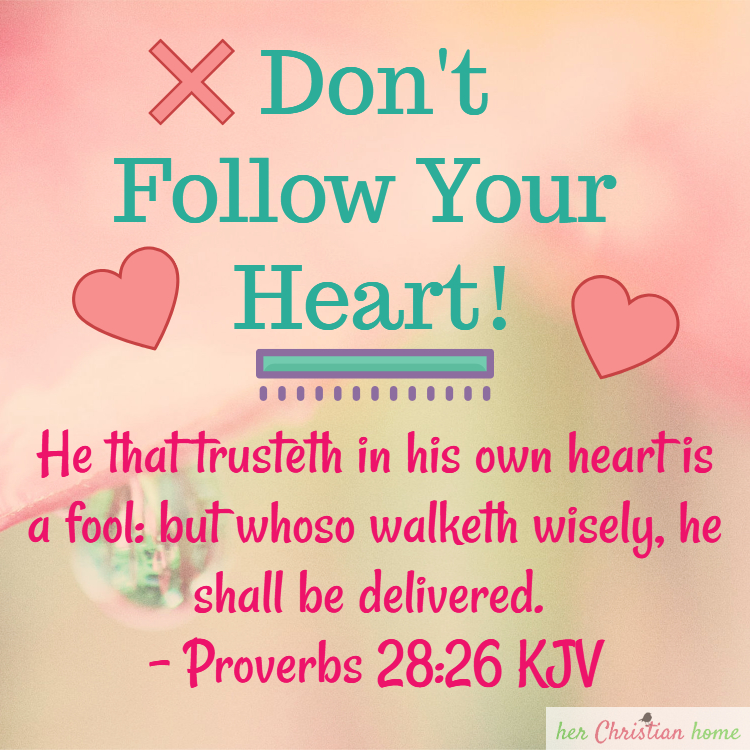 I'm going to immediately jump right in to set straight the
Fallible Philosophy 
that Hollywood is dishing out at us….
"Just follow your heart, and you'll do the right thing" they say.
This is HOGWASH (Informal noun meaning utter nonsense! LOL), and it doesn't line up with what God's Word says! As Christians, we've got to be careful about listening to worldly advice.
God's WORD says…
He that trusteth in his own heart is a fool: but whoso walketh wisely, he shall be delivered. – Proverbs 28:26 KJV
The heart is deceitful above all things, and desperately wicked: who can know it? – Jeremiah 17:9 KJV
Our heart can deceive us! Did you read that? Our heart is sinfully wicked by nature…not the other way around. Did we ever have to teach a child to lie?
PLEASE, OH PLEASE… Follow and seek God! Seek God's wisdom and not your own heart!
God's WORD encourages us to seek Him…
Seek the LORD and his strength, seek his face continually. – I Chronicles 16:11 KJV
Seek the LORD, and his strength: seek his face evermore. – Psalm 105:4 KJV
When thou saidst, Seek ye my face; my heart said unto thee, Thy face, LORD, will I seek. – Psalm 27:8 KJV
But how do we seek the Lord God?
1. Seek God With Your Whole Heart
But if from thence thou shalt seek the LORD thy God, thou shalt find him, if thou seek him with all thy heart and with all thy soul. – Deuteronomy 4:29 KJV
God wants us to truly seek him with all our heart and with all our soul.
This is no halfhearted matter!
Are we putting our whole heart, soul and energy into seeking God? Or do we read our Bible and pray only when it's convenient?
Some people pray for help and wisdom from God, but deep down in their heart, they are not wholeheartedly committed to following God's will. They secretly still want to do their own thing. God knows the difference.
Seeking God starts with the HEART…and usually when people are not interested seeking God, there is a serious heart issue underneath.
2. Seek God and Be Willing to Commit to Him
When you seek God, are you fully committed to the path that God may lead you? Some people purposely stumble off the path of truly seeking God because they're not willing to commit themselves to God's leading.
It may be that they're fearful or perhaps the love of the world has a strong hold on them.  This gets in the way of committing themselves to truly seeking and following God's will.
Job understood what it meant to truly seek God and yield to His will when he said…
I would seek unto God, and unto God would I commit my cause: – Job 5:8 KJV
3. Follow God's Word…Seek Him and Be blessed
The psalmist said…
Blessed are they that keep his testimonies, and that seek him with the whole heart. – Psalm 119:2 KJV
We have the opportunity to be blessed when we seek God and do the things that God tells us to do!  Are you missing out because you're still clinging to your own desires?
In just SEVEN SIMPLE WORDS, Jesus summed up the heart issue. We will "do" what's asked of us (his commandments) IF we love Him.
If ye love me, keep my commandments. – John 14:15 KJV
To truly seek God starts with the heart!
Did you get that?
Seeking God starts with the Heart!  Your whole heart!
BUT, follow HIM, not YOUR Heart!
Getting back to the issue of rejecting the fallible philosophy of "following your heart"…
Next time we offer advice, let's give someone GREAT advice so that they can be truly happy. Wisdom comes from the Lord…so point them in the right direction!  Encourage them to seek God — NOT to follow their heart!
He that handleth a matter wisely shall find good: and whoso trusteth in the LORD, happy is he. – Proverbs 16:20 KJV
God bless you and your family,
Rhonda White