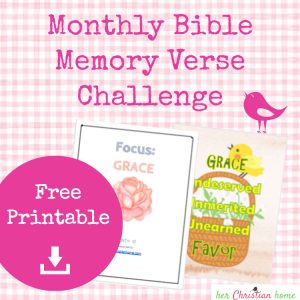 I've chosen the word
"GRACE"
for this month.  We need God's strength daily to continue on our journey.  Let's memorize these FOUR Bible Verses this month to keep them close to our heart.
Reminder:  You can choose to from ANY previous month's Bible memory challenge to accomplish.  I really don't have them in any specific order.
As far as my progress on Scripture Typer:  I'm now at level 17 with 3,554 points! 🙂  If you'd like join our group online, check out: Scripture Typer
UH-OH Note:  I found out I was not getting some of my fonts embedded properly for my printables.  So if any of them are looking odd, let me know. It seems like I will need to redo quite a few of them.  If the fonts are not embedded properly, and you don't have that particular font on your computer or device, it can end up looking like funny characters.  Since I have a massive collection of printables on HCH as this point, it seems practical to only redo the ones that people are currently downloading. So, please request an improved version of previous printables if you're needing a particular one.
Our new topic is GRACE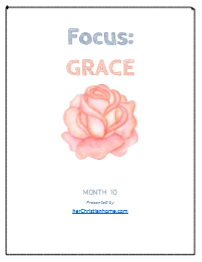 H
e
re's a snapshot of the printable poster this month: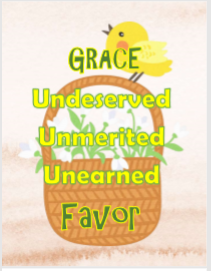 Bible Memory Verses on GRACE
Week 1:
And he said unto me, My grace is sufficient for thee: for my strength is made perfect in weakness. Most gladly therefore will I rather glory in my infirmities, that the power of Christ may rest upon me.
II Corinthians 12:9 KJV
Week 2:
For the LORD God is a sun and shield: the LORD will give grace and glory: no good thing will he withhold from them that walk uprightly.
Psalm 84:11 KJV
Week 3:
For sin shall not have dominion over you: for ye are not under the law, but under grace.
Romans 6:14 KJV
Week 4:
What then? shall we sin, because we are not under the law, but under grace? God forbid.
Romans 6:15 KJV