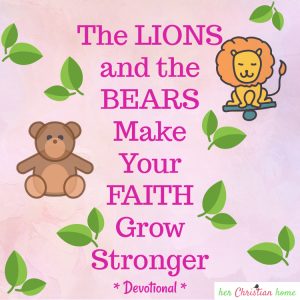 I Samuel 17:33-37

33 And Saul to David, Thou art not able to go against this Philistine to fight with him: for thou art but a youth, and he a man of war from his youth.

34 And David said unto Saul, Thy servant kept his father's sheep, and there came a lion, and a bear, and took a lamb out of the flock:

35 And I went out after him, and smote him, and delivered it out of his mouth: and when he arose against me, I caught him by his beard, and smote him, and slew him.

36 Thy servant slew both the lion and the bear: and this uncircumcised Philistine shall be as one of them, seeing he hath defied the armies of the living God.

37 David said moreover, The LORD that delivered me out of the paw of the lion, and out of the paw of the bear, he will deliver me out of the hand of this Philistine. And Saul said unto David, Go, and the LORD be with thee.
Back in April I was reading one of my husband's favorite Bible stories, which is about David defeating the giant, Goliath. I also love this courageous story…
Are you like me when listening or reading a story… do you try to put yourself in the place of the main character and imagine yourself facing the same situation?
As a little girl, I couldn't imagine facing this fierce giant.  Being small and facing someone so HUGE was such a FRIGHTENING, SHAKING-IN-YOUR-BOOTS, SCARY thought!
I applauded David's bravery and faith in God, but couldn't imagine myself mustering up the same courageous faith.
And truthfully, I could NOT have the same faith as David…yet.
God began working on building David's faith long BEFORE facing the giant.
Along came the LION and the BEAR before David faced the GIANT.
Many of us worry about the "what ifs" of possible trials that could come our way. How could we possibly endure such a tragic trial or hardship as that lady or gentleman that we know is facing?
We cannot borrow ahead of time the grace that is needed because God gives that grace when it's needed, not before time.  But, we do need to be building our faith by staying in the Word of God.  We cannot afford to be weak when Satan comes along and attempts to discourage us and tear us down.
Just like the giant, Goliath, wanted to destroy David, Satan wants to destroy you and me!
Face the lions and the bears in your life with a positive frame of mind…and let them build your FAITH!
David had many more trials to face, but each trial made him stronger in faith.  Consider each trial as another stepping stone in building your faith as God leads you through them.
Dig in God's Word daily…
Keep stepping forward, even if the path seems a little scary right now…
Keep walking in FAITH one day at a time!
May God bless you and your family,
Rhonda White