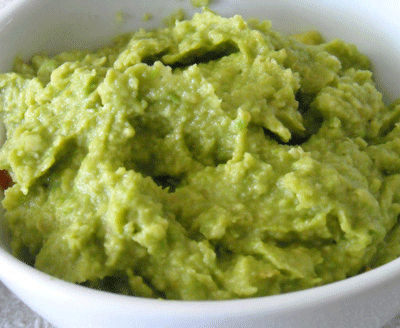 Easy, Delicious Guacamole[/caption] If you've ever peeked on the label of store-bought guacamole, you'll see all kinds of added ingredients that just don't really belong there in Guacamole dip.  Our health is being affected with so many additives and preservatives.
Does that mean I always fix "fresh" at home? 
Sadly, no.  I'm lazy at times or in hurried rush with some other activity that's going on…and so I grab those handy quick fixes at the grocery store. But…. just aiming to fix more fresh stuff at home and trying to avoid as much processed foods as we can…. even just half the time… can improve our health and help avoid some health issues.  Our bodies are starving for good nutrition…but can't get enough when its having to wade through all those additives. FYI – Avocados are healthy and great for you.  Read, "
15 Health Benefits of Avocados
" when you have time.
So, how about trying to make your own Guacamole this week?
The Fast Version:
Making your own fresh guacamole is simple and only requires 2 ingredients:
1 fresh avocado and a tablespoon or two of salsa. (You can add a teaspoon of sour cream to the finished recipe to make a creamier texture if you wish.)
Preparation
[caption id="attachment_2636" align="alignleft" width="400"]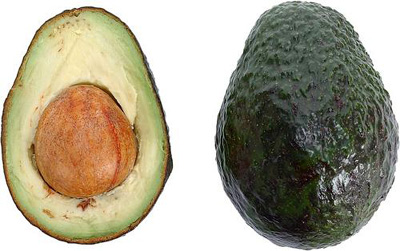 Peeling an avocado only takes 2 min.[/caption] Cut and peel your avocado, removing all flesh from skins.  If you don't know quite how to do that, visit this
link here
. [caption id="attachment_2638" align="alignright" width="400"]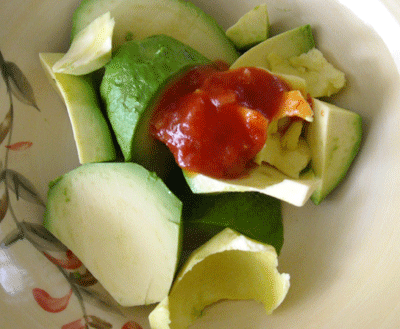 Have a fork handy to smash.[/caption] Now all you need to do is mash the avocado. If your avocado isn't quite soft enough, you can use a hand blender, but a fully ripe avocado is best. Add a couple tablespoons of salsa, just for a tiny bit of flavor and to make the end result creamier. Of course, to make things more natural, you can even
make your own salsa
. All it takes is a few simple ingredients like peppers, tomato, onions and cilantro.
Party Time? Put on the Show!
Now if you have more time and you're perhaps having guests…then here's a simple recipe that's sure to please. Remember, you can make this to suit your own needs…or according to your own tastes.  Perfecting recipes takes time and practice…just keep making a recipe and adjusting it each time until you have it down the way you love it!
Ingredients
2 avocados
1 small onion, finely chopped
1 or 2 cloves of garlic, minced
1 ripe tomato, chopped
1/2 lime, juiced
salt and pepper to taste
cilantro (optional)
Peel and mash avocados in a medium bowl. Stir in remaining ingredients. Chill for at least 30 min. for flavors to blend.
Some tips
:  For a faster fix, you can used powdered garlic, can of diced tomatoes, onion flakes, etc.  Again, using a little added sour cream will yield a creamier texture.  Also you if you love "spicy" you can added a finely chopped jalapeno to your dip. Some people say that adding the avocado pit will help your dip from turning brown as quickly…and drizzling some olive oil on top.  I haven't tried adding the pit to mine yet to tell you the results.  Let me know if you have…and if it worked. One last tip…you need to pick the ripe avocados…hard ones won't be ready to use. 
Visit this link here to find out how to pick ripe avocados
.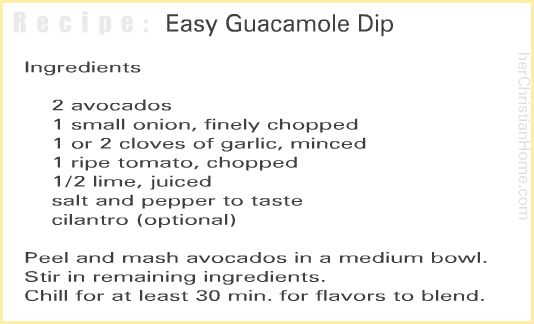 ]]>

Please help share my content:

<![CDATA[[caption id="attachment_2640" align="alignright" width="400"]