In November, we often start thinking about being more thankful. Some of us may write in a gratitude journal to keep a visual record of the things for which we are grateful.
Today, I want to chat specifically about "contentment."
Contentment is a state of being satisfied with one's current situation. It doesn't necessarily mean you are "thrilled" with your circumstances, but you make a clear, mental decision not to be miserable or unhappy.
Contentment, from a Christian perspective, means that you decide to carry on with the lot that God has allowed to come into your life.
You are probably familiar with the popular Bible verse, First Timothy 6:6 (KJV), which says, "But godliness with contentment is great gain."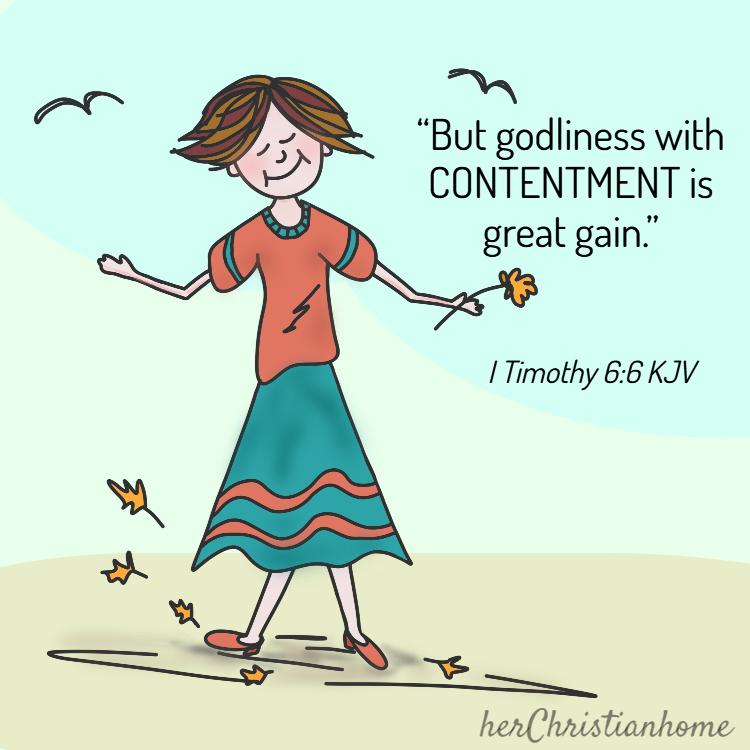 Contentment is surely profitable for us, but let's not forget the "godliness" part. Those two will bring such blessings into our life.
The Apostle Paul was in prison when he wrote to the church of Philippi…
Philippians 4:11 and 12 (KJV) says,
Not that I speak in respect of want: for I have learned, in whatsoever state I am, therewith to be content.
I know both how to be abased, and I know how to abound: every where and in all things I am instructed both to be full and to be hungry, both to abound and to suffer need.
Paul chose to put his "all" into the commitment of his new Christian life. That commitment did bring with it many hardships. He was imprisoned, and we know he was also beaten…but he says he LEARNED to be content.
(See Second Corinthians 11:23 to 28 to read about Paul's many sufferings.)
You and I can learn contentment when we actively practice gratitude all year long. How can one be discontent when they are busy looking for things to be grateful about?
Hebrews 13:5 (kjv) says, "Let your conversation be without covetousness; and be content with such things as ye have: for he hath said, I will never leave thee, nor forsake thee."
Isn't JESUS' sacrifice on the cross (for you and me) a GREAT reason to rejoice and be grateful daily? God's Word says that He will never leave us or forsake us. That's a pretty good deal, don't you think?!
Our computers, cell phones, and gadgets can have many glitches that fail us at times. Even our best of friends can still fail us. But God NEVER can fail!
We can learn contentment by looking at the right perspectives in life. Nothing ever takes God by surprise. His timing is always perfect and never late or faulty.
Complaining, by the way, is the opposite of contentment!
Complaining is one surefire way to miss out on contentment!
Did you realize that God does hear each complaint that we say?
In our fleshly nature, we all fall prey to complaining from time to time, but we should not let complaining take over our thoughts and become a daily habit.
Complaining does NOT please the Lord and robs us of contentment.
Moses said, "For that the LORD heareth your murmurings which ye murmur against him: and what are we? your murmurings are not against us, but against the LORD." Exodus 16:8 (b)
Ouch!
When I complain, not only am I discontent, but I'm murmuring against the Lord God.
May I encourage you today to rejoice in the Lord!
The Bible says, "Rejoice in the Lord alway: and again I say, Rejoice." – Philippians 4:4 (KJV)
My friend, how can we fail to be content while we're always rejoicing?!
Would you strive to practice contentment with me while I, too, learn contentment in my own life?
Keep walking in faith,
by Rhonda White