Rambling About My Weekend…and a sneak peek into my normal routine.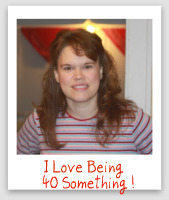 Seems like I've been awful busy lately coming and going…and planning what's going to happen next in my kitchen.  I decided to slow down for a moment today and share with you about what's going on here at the White House.
Thursday evening pre-planning takes place…and a little oops!
I decided to plan early for Friday morning's breakfast by whipping up a batch of that
peanut butter baked oatmeal
.  I spread it in my baking pan, covered it and put it in the fridge so that it would be ready to stick into the oven the next morning. It all actually turned out pretty well….except that I got in a big hurry and left a few spots of baking soda that didn't get mixed well. (eeeewww!)  Wouldn't  you know, my hubby and youngest son got those bitter bites in their pieces…and weren't really thrilled.  Next time, I'll slow down and mix a little more thoroughly.
Friday morning takes a big curve…
I really planned to relax a little bit and then get busy cleaning a little during the afternoon, but my hubby suggested we take off and travel to Ponca City to do a little shopping.  We try to plan a trip there about once a month to stock up on some supplies.  Unlike most of my past years of being a little "unflexible" with my planned schedule…I decided,
Why Not!
So, my schedule quickly changed just like that!  Anyway, I find that being the age of "40 something" is a little thrilling.  Most of the little worries of my 20 & 30's seem not so important now.  I still worry
sometimes
about that mess lurking my boys' rooms…but hey…I guarantee more than likely it'll still be there tomorrow.  It won't be crawling anywhere…and if it does…then I'm relieved that I didn't discover whatever was crawling in there. lol I did have a great but tiresome day.  When we got back for the evening, I made my
pizza dough
to get ready for our Friday Pizza Night. (Some routines are a must…and pizza is one of those big "priorities", you know.)
No worries about Friday's tasks that didn't get done…
To keep me from getting too far off course, my schedule organizer notebook is my support pal that makes sure that I get everything done. 
I find that just taking time to plan a few priorities to get done everyday keeps my house from falling apart.
Peering back on yesterday's schedule, I decided I'd better tackle those tasks today (Saturday), so I simply drew a little arrow over to Saturday. (
See how easy that is?
)  I then added only one other task of cleaning the bathroom so that I could easily get everything done in a timely manner.
Saturday is also the day to use up our leftovers…
For lunch, I grabbed leftover pizza to heat up for my boys and took out our leftover grapes to enjoy on the side.
I ate some leftover stir fry. It was still yummy! For supper, I wanted to use some of my leftover turkey, some
homemade salsa
, tortilla bits, and a little shredded cheese that I had left in my sandwich drawer in the fridge.
Mission accomplished:
I found this recipe online:
Tex-Mex Turkey Soup
It was the perfect solution (and quite delicious). I didn't have sour cream, but I substituted with plain yogurt.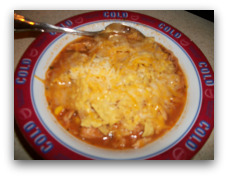 For the topping, I used leftover bits of tortilla chips that I keep in a bag for such an occasion.  Five minutes before serving, I tossed the bits into a little pan and popped them in my toaster oven to crisp them up.  I sprinkled the tortilla bits and cheese over the soup and it really added to the flavor and texture of the soup. My day is done…almost.  I'm planning to try this recipe tonight for a sweet treat this weekend: "
Peanut Butter Bars
".  With chocolate and peanut butter together, I figure I can't go wrong. I'm now looking forward to being in the Lord's House on Sunday! I hope you all have a wonderful weekend, and please take time to share your weekend by commenting below.
]]>

<![CDATA[