Here's a good question to ponder right this moment…
Could we trust God fully if He wasn't so faithful?
As we read through God's Word, we can see that He NEVER has failed — and that He has ALWAYS been faithful to His Word. And He ALWAYS will!
David himself experienced God's never-failing faithfulness…
"The testimony of the Lord is sure" – Psalm 19:7 kjv
"Thy testimonies are very sure" – Psalm 93:5 kjv
(*Sure= Unfailing, infallible, faithful)
Many of you have a diversity of gifts or talents in life. (Or, perhaps you may feel sort of like I do, in that I lack much in the talent department. Ha! ha!)
But, I would like to point out that little good does any great talent without FAITHFULNESS to serve our Heavenly Father. Our gifts and talents should be used FAITHFULLY to glorify our Heavenly Father, Who gave us the talents!
Today, I would beg you to consider obtaining the greatest talent of all — FAITHFULNESS.
God's Word says…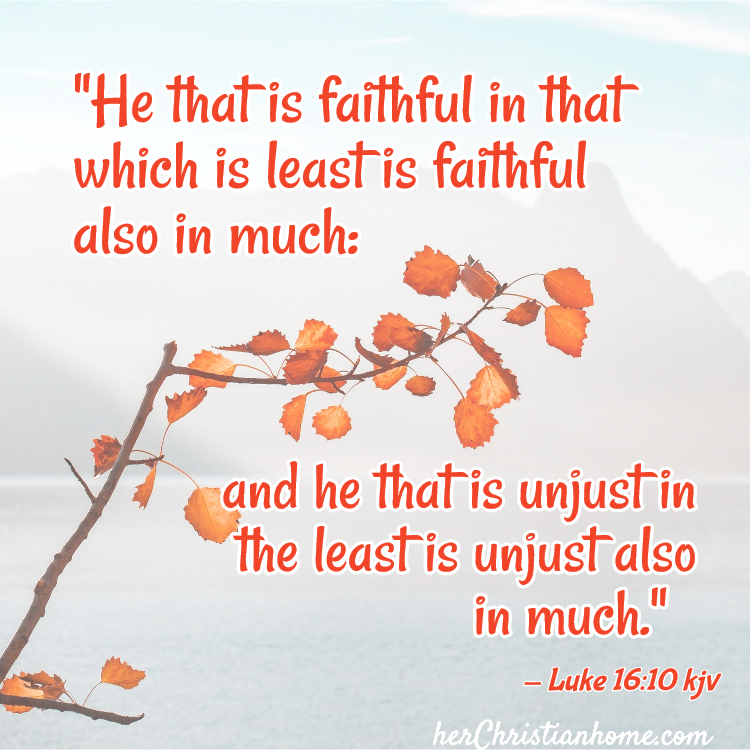 "He that is faithful in that which is least is faithful also in much: and he that is unjust in the least is unjust also in much." – Luke 16:10 kjv
"Moreover it is required in stewards, that a man be found faithful." – 1 Corinthians 4:2 kjv
"A faithful man shall abound with blessings: but he that maketh haste to be rich shall not be innocent." – Proverbs 28:20 kjv
Jesus has ALWAYS been faithful to us. Aren't you glad that he faithfully finished his greatest commission to redeem us from the penalty of eternal hell?
*View: Bible verses about Christ's redemption
We can depend on Christ's faithfulness, and IF we LOVE Jesus, we will want to be faithful in pleasing him as well.
"Jesus Christ the same yesterday, and to day, and for ever." – Hebrews 13:8 kjv
"If ye love me, keep my commandments." – John 14:15 kjv
Today, may I encourage you to NOT ponder your past failures…nor your lack of talent in areas that you wished you were more talented in, but rather run this race faithfully. Obtain the BEST talent of all by learning to be FAITHFUL.
I'm certainly far from perfect in the area of faithfulness, but when I do drop the ball, I can know that God has not stopped being faithful to me. I can jump back on the bandwagon and keep striving to be faithful.
God is ever merciful and patient with us…
"For a just man falleth seven times, and riseth up again" – Proverbs 24:16a kjv
My friend… Go! Go! Go! Go be FAITHFUL with whatever God has given you to do today…and wear that badge as your BEST talent ever!
Keep walking in faith,
Rhonda White