This devotional uses Bible Verses from the (KJV) King James Version
John 15:5 says, "I am the vine, ye are the branches: He that abideth in me, and I in him, the same bringeth forth much fruit: for without me ye can do nothing."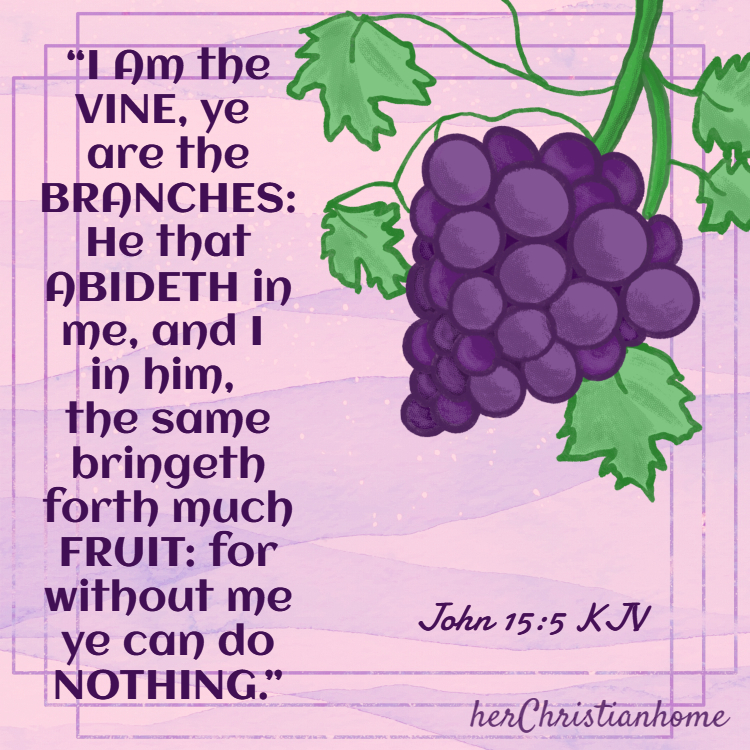 Here's a snappy biology lesson on the stem or vine of a plant. It has four main functions:
Supports leaves, flowers, and fruit
Transports necessary water from the roots to the upper plant area
Stores nutrients
Produces new living tissue.
The Biblical truth I want to impart to you today is that we NEED our Heavenly Father's help. Our total dependency should rely solely upon Him.
I know we all have different personalities, but if you're anything like me, I oftentimes struggle trying to figure things out. I'm a deep thinker. I scramble to find solutions and quick fixes. I parade onward to conquer the hurdles on my own. I whack at the "what ifs" that may result from a testy situation.
The trouble with that is that there are too many "I's" in the way…meaning "myself."
Without GOD, you and I are going to be too weak to survive all those stormy days. We're going to shrivel up like a wilted plant that hasn't drawn enough water and nutrients to withstand the heat…
No, we're going to be limp and lifeless, not able to stand up sprightly, nor reach our full potential of growth.
Here's a scoop of spiritual fertilizer for you and me today:
1. The vine supports the leaves, flowers, and fruit
John 15:4 says, "Abide in me, and I in you. As the branch cannot bear fruit of itself, except it abide in the vine; no more can ye, except ye abide in me."
David, with overwhelming distress, learned to lean on God.
Psalms 54:4 says, "Behold, God is mine helper: the Lord is with them that uphold my soul."
Our merciful, loving Heavenly Father doesn't want us carrying our heavy burdens on our own.
Matthew 11:28-30 says, "Come unto me, all ye that labour and are heavy laden, and I will give you rest. Take my yoke upon you, and learn of me; for I am meek and lowly in heart: and ye shall find rest unto your souls. For my yoke is easy, and my burden is light."
Let Jesus' strength carry you through!
2. The vine transports necessary water
John 15:6 says, "If a man abide not in me, he is cast forth as a branch, and is withered; and men gather them, and cast them into the fire, and they are burned."
Jesus is the source of living water. Before anything else, make you've drawn from Jesus the water of eternal life. It's ONLY through him that we can obtain this gift.
Jesus said in John 4:14, "But whosoever drinketh of the water that I shall give him shall never thirst; but the water that I shall give him shall be in him a well of water springing up into everlasting life."
Without becoming a child of God, you're like a fake plant. There's going to be absolutely no spiritual growth, nor a real live relationship with God. You receive no benefits of being a part of God's family.
The worst part is that you're going to be cast into the fire with the weeds. (Matthew 13:24-30) (Revelation 20:15)
Now, if you are a Christian, and you have already obtained the water of eternal life, remember to draw a continual supply from God's Word daily…
The JOY of your salvation depends upon it!
Isaiah 12:3 says, "Therefore with joy shall ye draw water out of the wells of salvation."
In Nehemiah chapter eight, Ezra, Nehemiah, and the Levites first made an important stance in reading from the Book of the Law before the people.
Nehemiah 8:10 then says, "Then he said unto them, Go your way, eat the fat, and drink the sweet, and send portions unto them for whom nothing is prepared: for this day is holy unto our Lord: neither be ye sorry; for the JOY of the Lord is your STRENGTH."
We can eat, drink and feel temporarily full…but the JOY that comes from the Lord is where our true strength lies in facing the fearsome winds and scary tumbleweeds hurling at us.
In referring back to today's theme Bible verse, Jesus then said shortly afterward in John 15:11, "These things have I spoken unto you, that my joy might remain in you, and that your joy might be full."
3. The vine stores nutrients
Jesus is also known as the "bread of life." (John 6:35) As I said before, we first need to trust Jesus as our only trail and passage to Heaven. (John 14:6)
Next, you need a "feeding faith."
Without continual nourishment from the spiritual supply SOURCE (the Word of God), we're going to be producing puny little fruits, if any at all. Our faith will be shriveling instead of growing. Our relationship will be snipped short.
Jesus said in John 15:10, "If ye keep my commandments, ye shall abide in my love; even as I have kept my Father's commandments, and abide in his love."
Romans 10:17 says, "So then faith cometh by hearing, and hearing by the word of God."
Today, make a commitment to feed your faith regularly. You can't gain sufficient spiritual nutrition from listening only to sermons or reading a small little devotional. No, you need that rich soil from the Word of God!
4. The vine produces new living tissue
Jesus is the way, the truth, and the life (John 14:6). As Christians, once we're grafted into the family of God, we need to be busy producing more fruit.
We're to be spreading the gospel. We can pass out tracts, we can tell others about Jesus, we can invite others to church, we can pray for our missionaries and support them so that they can bear more fruit on the mission field, we can pray and weep for the lost. There is much that we can do.
John 15:8 says, "Herein is my Father glorified, that ye bear much fruit; so shall ye be my disciples."
Let's make our walk with God authentic. Let's not forget that we're the branches, dependent upon GOD. We need to rely solely upon Him to become stronger Christians and able to face all the hurdles in life with JOY still present in our lives. As a child of God, we're a part of Jesus' vine… let's work harder to produce more fruit.
Keep walking in faith,
by Rhonda White