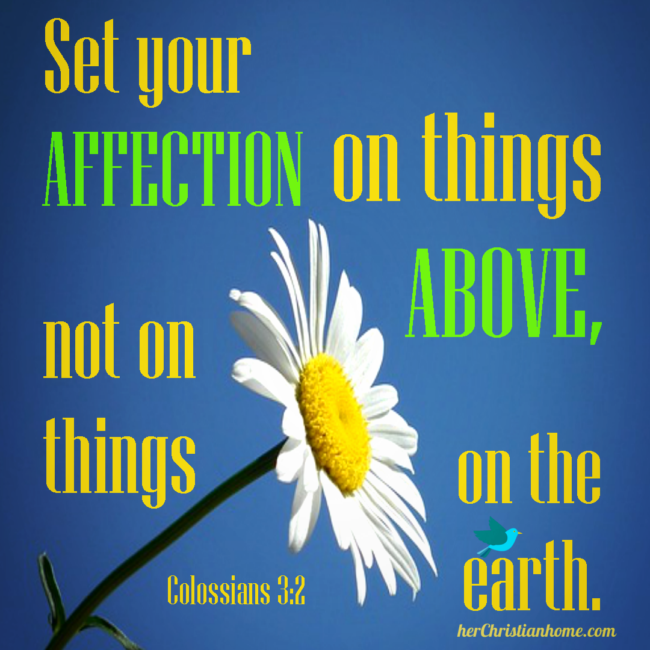 *Pin on Pinterest: https://www.pinterest.com/pin/138204282294516055/
Set your affection on things above, not on things on the earth.

– Colossians 3:2
In Colossians 3:2, the words "set your affection on things above" means to place your mind and thoughts on them, to show favor towards them, and to be affectionately desirous of them.
For example, because I have affection toward my family, my thoughts are occupied with them as well.
What kind of things consume your thoughts?  If you deeply ponder the answer, you'll know where your real affections lie.  Your affections as a wife will probably be towards your husband.  Your affections as a mother will probably be towards your children.  Your affections as a daughter will probably be towards your parents and grandparents.
It's a good thing to love our family and friends, but beyond our loved ones, what consumes our minds most of the time?
Today, the world has many things that consume their minds…
Money
Electronics
Food
Entertainment
TV Programs
Travel
Clothing
Shoes
Purses
Hair, Makeup, Beauty
Sports
and more..
None of these earthly things will we get to take with us to Heaven. We are certainly to enjoy the life that God's granted us here on earth, but without setting our affections on things above, our mind, thoughts and actions will only be on the temporary things. Setting our affections on the "here and now" of what we can get out of life will profit us NOTHING in our future in Heaven.
What are the things above?



Our Heavenly Father; our Savior, Jesus Christ
Our eternal home
Our Christian loved ones, who have passed on before us.
A place of no pain, suffering, sorrow, nor tears
A place of rest and peace
A place without sin and evil
Are you beginning to see my point? 
When we start to set our affections on things above, the "here and now" hardships aren't so dreadful… the "here and now" becomes more "temporary" in our minds.
The suffering, the sorrow, the pain, the tears… they're temporary.
Our goals are no longer to work more for here on earth, but to please our Heavenly Father above.
Your affection as a child of God should be on things above… things eternal.  These are the things that will bring you the true joy that you seek in life.
God bless you and your family,