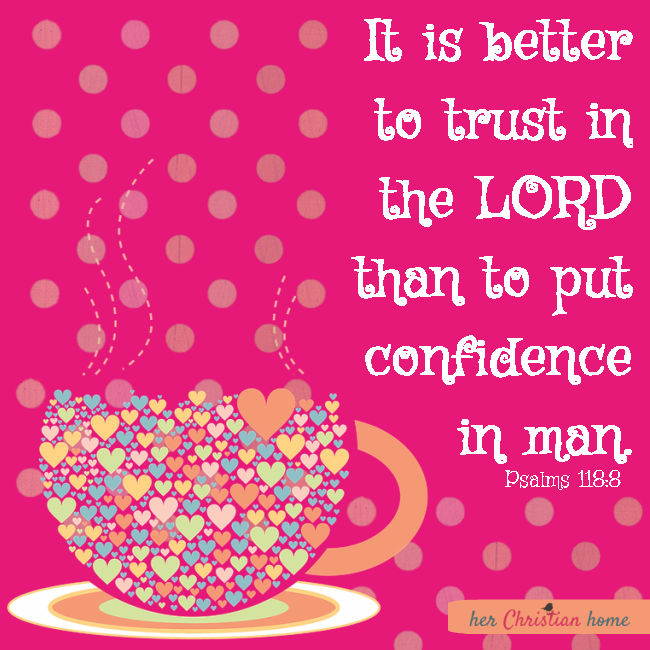 Are you disappointed in someone who let you down? 
Perhaps you're angry or frustrated with someone who did you wrong.
The reason why we get disappointed is because we had "better" expectations from someone who would possibly fail us. We put our confidence in someone who has flaws.  Of course, if we're honest with ourselves, we have to admit that we've also let others down as well.
What is our reaction when others disappoint us?
It could be to pout, feel sorry for our selves, criticize, gossip, get even or never speak to them again.  Unfortunately, these reactions stir up bitterness in our hearts.  We may carry the load of bitterness on our shoulders for months or years, which robs us of our peace and joy.
It's time to forgive and move on… don't let Satan rob your peace and joy any longer — not even for one more day!

When you have a choice of something "better"– then the other choice is obviously something not as "good."
God's Word says it's better to trust the Lord… It's better to put our confidence in HIM than in man.  We have a choice. When we choose the Lord fully, we will not be quite as disappointed in man. When we trust the Lord, we also trust that He knows all about it.  He allowed it to happen.  He can also take care of the situation.
The decision of how you react is now yours…
I can now choose (with God's help) to forgive. I can now choose (with God's help) to get over it.  I can choose (with God's help) to rejoice in the Lord. I know He is there to help me through whatever problems or situations that I may face.
If you've been wronged, put your confidence back in the Lord.  He's not forgotten you. He knows you've been wronged. He loves you.  He will not fail you. Make the better choice to trust Him today.  He is the BEST choice!
It is better to trust in the LORD than to put confidence in man. – Psalms 118:8
God bless you and your family,