Whenever we have a painful trial, it can totally consume our thoughts and hinder us from us being able to focus on anything outside of our affliction.
Trials do have a way of pulling us downward… feeling like a dark, gloomy phase in our life. It can be hard to feel hopeful and look for the positive during these painful times.
When all we see is our PAIN, we lose sight of God. It's so good for us to look at our painful circumstances from a different perspective in how God might use our trials for His glory.
We can also benefit from God's promises to lend us comfort during these hurtful times. (*For those dealing with grief and pain, I've shared 10 helpful Bible Verses at the bottom of this post.)
This last Sunday, a friend of mine, Ruthie Miller, shared a special (inspiring) post on Facebook concerning the trial she went through when her sweet little baby, Jonathan Thomas, went home to be with Jesus.
*I've asked special permission from Ruthie to share her post with you because I am confident that there are some of you who will be blessed by Ruthie's post… (Read below her photo.)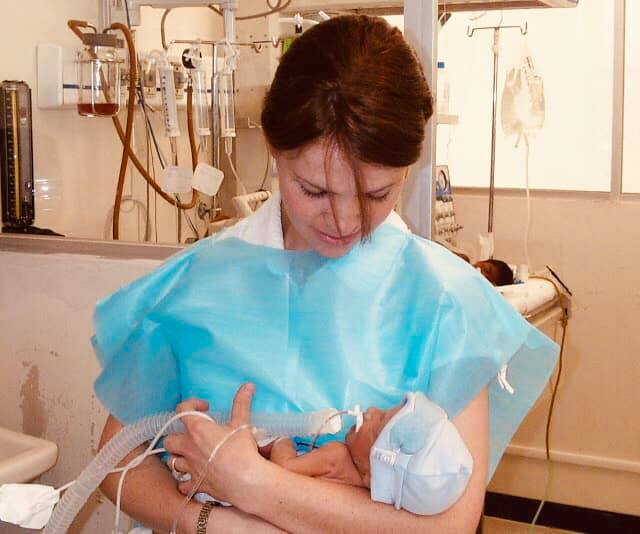 Today is the birthday of our Jonathan Thomas. You live forever in my heart. You'll always be my Baby ♥️
"Ruthie, If you never felt pain, how would you know that I'm your Healer?
If you never went through difficulty, how would you know that I'm your Deliverer?
If you never had a trial, how could I make you an overcomer?
If you never felt sadness, how would you know that I'm your Comforter?
If you never were troubled, how would you know that I'm your Rescuer?
If you never were broken, how would you know that I can make you whole?
If you never had a problem, how would you know that I can solve them?
If you never felt weak from suffering, how would you know that I am your Strength?
If you never went through the fire, how would I purify you?
If your life were perfect, what would you need Me for?
If you never endured a loss, how could I use you to help another grieving heart?
If you never felt my gentle touch through it all, how else could I prove my love for you?" ~God#HeavenisSweeter#HeComfortsUs
~ By Ruthie Miller
===============================================================
Here are 10 Helpful Bible Verses for Those Dealing with Grief and Pain
Yea, though I walk through the valley of the shadow of death, I will fear no evil: for thou art with me; thy rod and thy staff they comfort me – Psalm 23:4 KJV
The LORD is nigh unto them that are of a broken heart; and saveth such as be of a contrite spirit. – Psalm 34:18 KJV
He shall cover thee with his feathers, and under his wings shalt thou trust: his truth shall be thy shield and buckler. – Psalm 91:4 KJV
He healeth the broken in heart, and bindeth up their wounds. – Psalm 147:3 KJV
Thou wilt keep him in perfect peace, whose mind is stayed on thee: because he trusteth in thee. – Isaiah 26:3 KJV
Blessed are they that mourn: for they shall be comforted. – Matthew 5:4 KJV
These things I have spoken unto you, that in me ye might have peace. In the world ye shall have tribulation: but be of good cheer; I have overcome the world. – John 16:33 KJV
Who comforteth us in all our tribulation, that we may be able to comfort them which are in any trouble, by the comfort wherewith we ourselves are comforted of God. – II Corinthians 1:4 KJV
Casting all your care upon him; for he careth for you. – I Peter 5:7 KJV
And God shall wipe away all tears from their eyes; and there shall be no more death, neither sorrow, nor crying, neither shall there be any more pain: for the former things are passed away. – Revelation 21:4 KJV