*Updated! Originally posted July 4, 2010
Psalms 23:1 –  The LORD is my shepherd; I shall not want.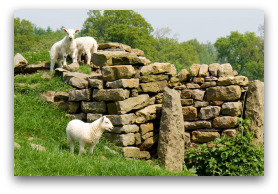 Psalm 23 is a very well-known Psalm of David.  David had been a shepherd in his youth and had personal experience with the responsibilities of a shepherd.  Dutifully, he  watched over the sheep and took care of their every need, leading them to grasses to graze and water to drink.  He also had the duty of protecting them from harmful predators and  keeping a watchful eye over any sheep that may be wandering astray.
Being a good shepherd must have required a lot of diligence and was probably exhausting at times.   From a mother's view point of taking care of her own little "flock" at home, it's hard to imagine the responsibility of managing an entire  flock of sheep.
A good shepherd would never leave his sheep alone, wandering about helplessly. (Would we as mothers leave our little toddlers out wandering down the street alone?)  The shepherd cared for his sheep with compassion.  Ancient shepherds knew each of their sheep by name.   They were familiar with their individual characteristic marks, their peculiarities, their personal habits and tendencies, etc.
To begin the day of leading his sheep, a shepherd's morning call was a distinctive guttural sound.  In trusting obedience, each flock would rise and follow its master to the feeding grounds.  Amazingly, even if two shepherds called out to their flocks at the same time where the sheep were intermingled, they were able to recognize their own shepherd's voice.  They never followed the wrong shepherd.
When we realize the great responsibility of a shepherd, we can truly begin to appreciate David's remarkable statement when he says, "The Lord is my Shepherd."
There's three simple points that I would like ponder today….
1.  We have a choice to follow.
Our Heavenly Father wants to be our Shepherd, but He gives us a choice to follow.  He did not create us to act as robots upon forced command.  Because Jesus willingly laid his life down upon the cross to pay for our sins, we should willingly repent of our sin and accept Him as our personal Savior, allowing Him to become our Good Shepherd.  (See YourFreeGift.org)
Jesus says in John 10:11,27, "I am the good shepherd: the good shepherd giveth his life for the sheep… My sheep hear my voice, and I know them, and they follow me."
2.  When we follow, we do not lack.
For those who scoff at Christianity, claiming it to be a mere "security blanket" to believers, they're truly missing the absolute  joy of having such a tender, loving, caring Shepherd.  Never do we have to face life difficulties and struggles alone.  Never is there a need or worry that we cannot approach our Heavenly Father and simply ask Him to meet our urgent need.
Matthew 7:11 – "If ye then, being evil, know how to give good gifts unto your children, how much more shall your Father which is in heaven give good things to them that ask Him?"
3.  When we follow, our future is covered as well.
As we take one more quick glance at verse 1, we notice the particular word, "shall" not want.  The word "shall" may express our near future, our tomorrow (isn't that what we usually worry about?), but it also expresses what will definitely be done.
We might claim to our neighbor that "tomorrow we might pick blackberries if it doesn't rain."  But, when we use the word "shall", we have obviously mustered up the determination that we're definitely going to do something whether rain or sunshine…it's definitely getting done!
God already knows all about tomorrow and our future needs…all our needs "shall" be met…we shall not want!

Matthew 6:8 – "Be not ye therefore like unto them: for your Father knoweth what things ye have need of, before ye ask Him."
When we let Jesus become our good Shepherd, we do not lack.  Our every need is met….emotionally, mentally, physically and spiritually. Won't you follow Him today?
God bless you and your family,