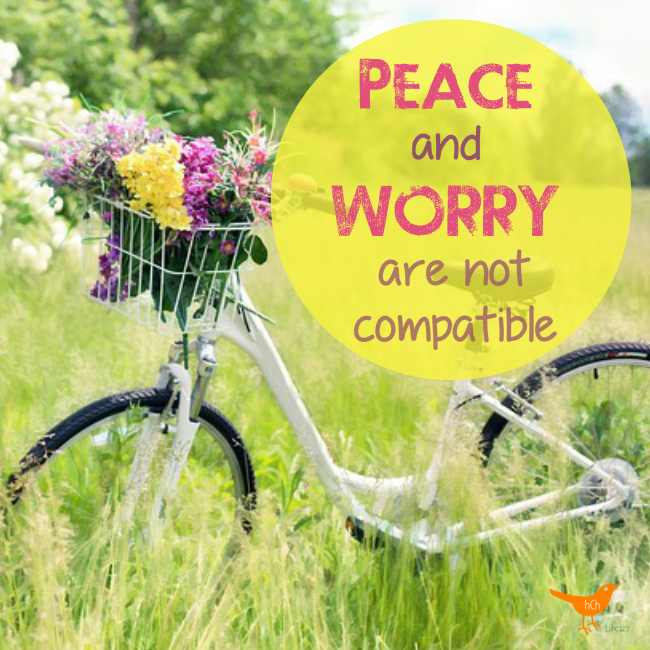 I didn't use to be a worrier…
After becoming a mom, I now had 3 little somebodies to worry about….and now that they are almost grown up, I still worry about them quite frequently.
Recently, some health issues have also festered up some worries in my life.
I'm flesh; I battle this great, ugly monster of WORRY.
One thing is for sure…
If I didn't worry,  I probably wouldn't pray as much.
Now, I'm not advocating for everybody to take up the hobby of worrying.   Rather, I'm saying, if you have an issue with worrying, put it to good use!  You've got to muster up your strength to keep praying through it.
Each time you worry, STOP yourself in your tracks and pray.
If you worry all the time,  then you've got a new full-time job as a Prayer Warrior. 🙂
You can do it!  You have to practice praying when you worry… but you need a battle plan in place!
God's Word is the secret weapon that will build your faith.  Without it, you have no weapon against the Devil who will keep feeding you doubts and worries.  Memorizing and quoting Scripture can help you through the major part of the battle.  Singing praises to God can lift your spirits.
I know that it's not easy to trust the Lord at times.  I get like Peter and start looking at all the stormy waves around me….then, I start sinking.  I have to remember to call out to the Lord Jesus for help — just like Peter did!
Sometimes it's hard to fall asleep at night to rest because we're so overwhelmed with the conflicts and obstacles in life that we're facing… but determine that Satan will not rob your PEACE!
PRAY SOME MORE!
"It is vain for you to rise up early, to sit up late, to eat the bread of sorrows: for so he giveth his beloved sleep." 
– Psalms 127:2
Remember, God is ALWAYS in control… even of tomorrow!
"Take therefore no thought for the morrow: for the morrow shall take thought for the things of itself. Sufficient unto the day is the evil thereof."  
– Matthew 6:34
Again, don't let Satan rob your PEACE today.
Use your weakness of worry as a tool to pray more.  Turn your worries into frequent prayers.   When you worry, try to pray more for others that are in much worse situations.  Keep yourself busy serving the Lord and serving others.
God bless you and your family,