"Let not your heart be troubled: ye believe in God, believe also in me."

~ John 14:1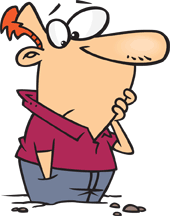 The first thing I said this morning when my eyes popped open was, "
Good morning, Lord!
" Immediately the verse from
John 14:1
popped into my head.  So, I felt that the Lord was leading me to use this verse today because I need it — and I know someone out there needs this verse for encouragement as well. The Words that Jesus spoke, "
Let not your heart be troubled,
" are so
comforting
.  We often hear the verse quoted solo, but what's amazing is the verses that follow.  They're the very
reason
why our hearts
shouldn't
be troubled but
comforted
!
"In my Father's house are many mansions: if it were not so, I would have told you. I go to prepare a place for you.

And if I go and prepare a place for you, I will come again, and receive you unto myself; that where I am, there ye may be also."

John 14:2,3
Jesus is preparing a place for us!  Not only that, He's coming back for us soon!  Furthermore, we get to be where Jesus dwells!  Our Heavenly Father is what makes Heaven ==>>
Heaven
!  A place of
joy
and
peace
…all tears wiped away! 
No sorrow
! So no matter what
trials
or
circumstances
you may be facing right now, these things are
temporary
if you've trusted in the Lord Jesus as your Saviour.
Jesus also said in John 14…
"Jesus saith unto him, I am the way, the truth, and the life: no man cometh unto the Father, but by me."  John 14:6
You see, there's a lot of people out there praying…but they're not yet a child of the King of Kings!  It's
ONLY
by trusting in Jesus do we become a child of God.  There is no other way!
It wasn't a coincidence…
God wanted you to have assurance that
ANYONE
can be saved.  The gift is
FREE
! The thief hanging on the cross by Jesus that day accepted Christ's gift of salvation.  B
y faith,
he believed and called out to Jesus.  The thief didn't have money, he didn't have the opportunity to get baptized,  nor did he have opportunity to work his way to Heaven by doing a load of good works.
Christ accepted him just as he was — hanging there on the cross in his sinful state
.  Because the thief humbled himself, realizing he was a sinner, and then believed on Jesus, Christ pardoned him and accepted him.  Isn't God so merciful and good!?!
"And Jesus said unto him, Verily I say unto thee, To day shalt thou be with me in paradise."  Luke 23:43
That day the thief was a sinner saved by grace.  And Jesus
comforted
him by assuring him that he would be with Him in Heaven!  The thief was in a terrible situation near death, but was
comforted
knowing his destiny was to be in Heaven with Jesus that day!!!
"For by grace are ye saved

through faith

; and that not of yourselves: it is the

gift

of God: Not of works, lest any man should boast."  Ephesian 2:8.9
If you're not yet a child of God, settle it today.  Do it now!
Day 9

My "

day 9

" prayer motivation doesn't really line up with the book I'm reading on prayer, but it's the one that I felt led to share… Today ask the Lord to give you

grace

and

strength

through your trials. Ask Him to remind you to keep your eyes on Jesus.  Be

comforted

knowing that God's still in charge.  Your destination as a child of God is Heaven….and

He's preparing a special place just for you

!  His thoughts are all about

you

! Remember the story of when Jesus calmed the storm? (

He had the POWER to do that

!) Although Peter started off walking boldly upon the sea toward Jesus, he began looking around in fear at the boisterous winds.  His faith began to sink, and soon he began to sink into the sea.   When he cried out to the Lord for help, Jesus "

immediately

" stretched out his hand to save Peter from sinking.  Jesus said to Peter, "

O thou of little faith, wherefore didst thou doubt?

" 

[Matthew 14: 25-32]

Our heart becomes troubled when we lose site of Jesus.  Our faith begins to sink and we become fearful and troubled. But when we keep eyes on what's ahead…instead of the winds and waves around us, the storms become calm…and we're safe and secure!

Here's a song you might enjoy.  It's called, "

He's the Master of the Sea.

" ]]>

<![CDATA[