Double Your Portions this Year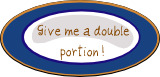 I tell you there's nothing so satisfying as having a second helping of my favorite dishes, such as homemade chicken and noodle soup (which I made today…and enjoyed thoroughly).  But while we're encouraged as women to "watch our weight" and cut down on those extra portions, you can feast wholeheartedly on the Word of God.  In fact, feast on it continually!
Ps. 119:57
says, "Thou art my portion O Lord: I have said that I would keep thy words."   As a child of God, we're heirs with Him (Rom. 8:17).  We're no longer slaves to sin, but as sons, we can have victory in our lives. As heirs, we should strive to keep the Word of God.  It's our guide and instruction Book…our own personal love letter from God.  Of course, it's hard to keep His Word if we don't read it.  We need to continually feast upon it, memorize it  (Pr. 7: 2,3), and hear it (Rom. 10:17)…not forsaking the assembling of ourselves together (Heb. 10:25) by attending our local church. Wouldn't it be great if we walked so closely to God that our friends would not be envying our new dress or new hair style, but were simply yearning for a double portion of our spiritual walk with God?
Elisha wanted a double portion…
2 Kings 2:9
"And it came to pass, when they were gone over, that Elijah said unto Elisha, Ask what I shall do for thee, before I be taken away from thee. And Elisha said, I pray thee, let a double portion of thy spirit be upon me."
Helpful resource:
Click Here for Daily Bible Reading
]]>

Please help share my content:

<![CDATA[