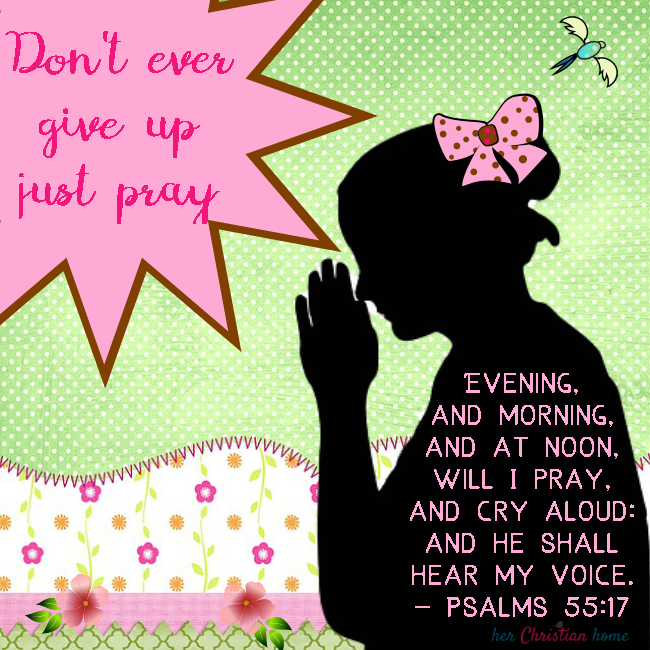 There's many verses from God's Word on prayer, but perhaps you're wondering, "How often should I pray?"
We never seem to question how often we should nourish our body with food.  For me, it's around three times per day, but there's times we may miss breakfast or another meal.  We definitely feel the hunger pains if we skip eating for very long. One way or the other, as you can see it's a continual process of nourishing ourselves.
Another question to consider is how often do we talk with our friends?  Those with whom we have the best relationships — there's often a frequent communication pattern involved.
We know Daniel had a habit of specifically stopping three times a day to really focus on prayer and talking to our Heavenly Father….
Now when Daniel knew that the writing was signed, he went into his house; and his windows being open in his chamber toward Jerusalem, he kneeled upon his knees three times a day, and prayed, and gave thanks before his God, as he did aforetime. ~ Daniel 6:10
Psalms also speaks of three specific times of prayer: morning, noon and evening…
Evening, and morning, and at noon, will I pray, and cry aloud: and he shall hear my voice. ~ Psalms 55:17
But, you know what? There are days when I crave extra snacks because I've been extra busy with projects… I'm burning up extra fuel and my stomach cries out for extra nourishment.
In similar ways, there are days when we're burning extra fuel from stress and trials that seep into our lives. Our family members and friends may be carrying a heavy load…and we need to help them bear their burden by offering up extra prayers on their behalf.
The Bible makes it clear that prayer should be a continual process.  We can pray without ceasing by praying as we drive somewhere, praying as we wash dishes and fold clothes, praying whenever the Holy Spirit brings someone to our thoughts, etc.
Just pray!!! And keep on praying!!!
  Pray without ceasing. ~ I Thessalonians 5:17
Here's a song on PRAYER that I wanted to share with you today…
JUST PRAY
by Rodney Griffin
I was discouraged when no answer came
See, I'd prayed for years, and I still saw no change
I was ready to give up on my wish coming true
But when I prayed that last time, His power broke through
And prayer is just as big as God is
Prayer is just as strong as God is strong
Prayer can reach as far as God can reach
Don't ever give up, just pray, just pray
Don't ever give up, just pray
We have been given a means to the throne
Of the One whose potential is yet to be known
There is no limit as to what God can do
So just keep on praying, He's listening to you
And prayer is just as big as God is
Prayer is just as strong as God is strong
Prayer can reach as far as God can reach
Don't ever give up, just pray, just pray
Don't ever give up, just pray
——————————————————–
God bless you and your family,
Rhonda White