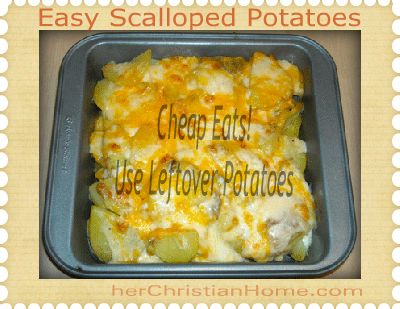 preparation for the next day.
One of the things you can do with leftover potatoes is make easy delicious scalloped potatoes.
*Tip: If you don't have leftover potatoes, you can boil some in the afternoon and let them cool before slicing. In this picture,new potatoes were used.
While you're at it…save any leftover cheese sauce during the week as well. Perhaps a cheese sauce that you used on steamed cauliflower or broccoli? Make a little extra and then use it the next day in this easy-to-prepare dish.
If you don't have leftover cheese sauce, you'll find an easy recipe below…
Featured Product: (my referral link)
Recipe for Cheese Sauce: (if you don't have leftover sauce)

3 tablespoons butter
3 tablespoons flour
¼ teaspoon salt and pepper
1 ½ cups milk
1 cup shredded cheddar or other favorite cheese or mixture

Note: This will make about 2 cups of cheese sauce. How much you need for the scalloped potatoes will depend on how many potatoes you're using and how cheesy you want your potatoes. There is no real right or wrong way with this process. However, if you are using a 9" square pan of potatoes like shown in the picture above, you'll probably want at least 1 ½ cups of sauce.

Prepare the Sauce:

In a medium saucepan, melt the butter over medium heat. Next, add the flour, salt and pepper and whisk constantly. Once the mixture has thickened a little, gradually add the milk and whisk thoroughly before adding more milk. Continue whisking until the mixture is fully thickened. Now, it's time to remove the pan from the stove and stir in the shredded cheese. Stir until combined and serve.

How to Assemble Your Scalloped Potatoes:

Thinly slice your leftover potatoes. As mentioned earlier, if you're boiling your potatoes specifically to make this recipe, allow them to cool first to prevent burning your fingers and also to keep from ending up with crumbly potatoes.

If you're using leftover cheese sauce, you don't need to reheat the cheese sauce before using it. Simply drop it by spoonfuls on the potatoes and the heat from the oven will help distribute the sauce evenly.

LAYER IT: Place half the potatoes in an oven-safe dish. Top with half the cheese sauce. Then add another layer of potatoes. Finally top with the remaining cheese.

Place baking dish, uncovered, into a 350 degree oven. Bake 30-40 minutes until heated thoroughly.  In the last 10 minutes of baking, top with some shredded cheese and allow it to brown.

Extra Tidbits:

– Add turkey ham chunks to make a heartier main dish.

– Add minced onion and other favorite seasonings that you might enjoy…get creative!

Your Turn to SHARE!  Please share your favorite tips for leftover potatoes / or scalloped potatoes.  You may also link to a recipe on your blog or a website.

Pst! If you enjoy scalloped potatoes, please use my share buttons below this post and share with your friends. 😉

Next time you're cooking potatoes, why not cook extra to get a head start on meal