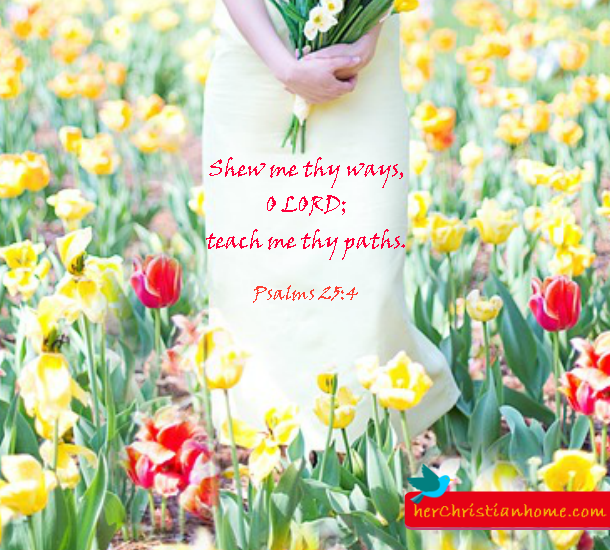 Shew me thy ways, O LORD; teach me thy paths.

– Psalms 25:4

When I was young (just fresh out of college), I was getting ready to go on a simple little road trip to stay with a friend of our family for a few days so that I could attend a Bible conference nearby.  I became quite anxious because I'm very terrible at navigating on the road. (I'm not exaggerating!) 🙂 I get turned around and desperately lost once I get behind the wheel and pull out of the driveway.  I remember my mom trying to clearly explain the directions, and after seeing the panic manifesting on my face, she bluntly said, "You just need to get married."

When people explain to go east, west, north or south, they might as well be speaking to me in German.  Directions are like a foreign language to me.  If I'm heading out to unknown territory, I need the directions for my destination clearly shown to me. I'm a visual person.  A clear map must be written down on paper — arrows pointing left and right where I must turn.  Plain and simple, the lines and arrows help my brain function in a constructive way when it comes to getting to my desired destination.

The Christian walk can also be extremely confusing at times.  We can even feel quite panicky.  Many times we really can't understand what God's doing.  Perhaps the road looks utterly scary.

God does give us assurance in His Word that He's truly leading us to an expected end… with thoughts of peace towards us.  There's no evil intentions, even though we don't understand why terrible things happen to us.
For I know the thoughts that I think toward you, saith the LORD, thoughts of peace, and not of evil, to give you an expected end.
  – Jeremiah 29:11
We all would like clear lines and arrows drawn out for us to eliminate the fear of where we're heading. It's true that we must use our faith each day to keep moving forward. Through God's Word, He shows us the things we're to do and not to do.  These guidelines help us avoid the pitfalls and traps that Satan likes to put in our paths to lure us on to a road of destruction.
Our willingness to listen and be taught is one of our greatest assets.
Be willing to be shown and be willing to be taught through God's Word.  Let God guide and lead you in the right direction.  Trust in Him. Do today what you know you should do…. each step on the right path will lead you closer toward the expected end that God has in store for you.
God bless you and your family,